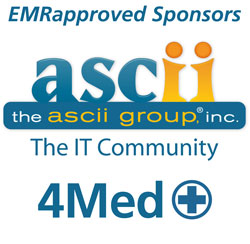 4Medapproved.com has partnered with the ASCII organization to create ASCII4Med™! A focused network of healthcare technology resellers positioned to reach the nationwide medical community. Members may tap into a wealth of online and partner resources available through this program to better leverage this lucrative and expanding vertical.
As a benefit of ASCII membership, the introductory 4Medapproved certificate program entitled "EMR/HIT Proficiency" is provided to all members free of charge. This certificate program offers an excellent overview of EMR and healthcare technology, demystifies the HIPAA compliancy regulations and outlines basic product promotion for the healthcare community.
Members who complete the introductory certificate program are eligible to apply for membership in the ASCII4Med™ channel program through 4Medapproved.com and Synnex ProHealthSolv. Receiving access to free online tools and resources as well as deep discounts on full HIT certification and marketing programs designed to help resellers reach and succeed in their healthcare target markets.
Why join the ASCII4Med™ channel through 4Medapproved.com?
Learn about the growing EMR/HIT markets from industry professionals
Expand your client opportunities into the medical community
Receive complete healthcare technology certification training
Receive a national consultant/reseller directory listing online
Appear in an industry-wide Press Release announcing 4Med status
Access FREE online HIT tools, guidance and resources
Receive direct referrals from 4Medapproved to new potential clients
Take advantage of discounted healthcare marketing tools and packages
Gain access to money-making VAR opportunities with numerous medical site sponsors
To register for the introductory free HIT certificate program:
complete the application form below.
You will instantly receive access to the online certificate courseware and will be provided with links to investigate the 4Medapproved and Synnex ProHealthSolv full certification and marketing 4Med programs!
EMR/HIT Certificate Program Application
Meaningful Use

HITECHAnswers and 4Medapproved partner to bring you the latest information and guidelines regarding HITECH and Meaningful Use!
Learn More.
HIPAA Consulting Services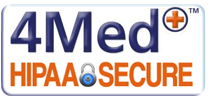 To learn more about 4Med+ HIPAA Consulting Services, click here.
Professional Training Courses

Fore more information about 4Medapproved training courses, including HIPAA training, click here.