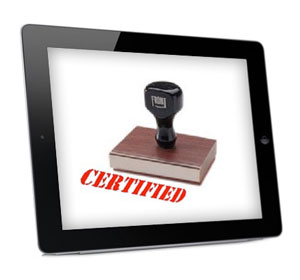 Permanent Certification Program
Today Electronic Health Record (EHR) systems are certified to criteria and standards issued by the Office of the National Coordinator (ONC). On January 3, 2011 the ONC issued the Final Rule to establish the permanent certification program for health information technology. The rule was officially published in the Federal Register on January 7, 2011. In June 2011 American National Standards Institute (ANSI) was selected as the ONC Approved Accreditor (ONC-AA) for the ONC Permanent Certification Program.
2014 Edition Certification
On September 4, 2012 the ONC issued the Health Information Technology: Standards, Implementation Specifications, and Certification Criteria for Electronic Health Record Technology, 2014 Edition; Revisions to the Permanent Certification Program for Health Information Technology Final Rule. The rule changes the name of the Permanent Certification Program to the ONC HIT Certification Program. The ONC HIT Certification Program became fully operational on October 4, 2012. Under the program, products are tested and certified by different entities.
Developers and Vendors first test their product with an Accredited Testing Laboratories (ATL)
If the product meets the requirements, they work with an ONC-Authorized Certification Bodies (ONC-ACBs) to certify the product.
Once the product is certified, it is submitted to ONC.
The ONC posts the product on the Certified Health IT Product List (CHPL).

Solutions, Tools, and Products

Review, compare, and select EHR Software Solutions.

Search for an Original Equipment Manufacturer (OEM) products when selecting and purchasing EHRs and related products.
Find EHR compatible computer and technology products and services in the 4Medapproved Store
Find and select IT Professionals that can provide guidance to EMR relevant products and services, create IT assessments, provide IT infrastructure, install computer technology as well as maintain and support all of your practice technology.
ONC Resources
Other Resources
Related Terms and Acronyms
ANSI - American National Standards Institute
ATL - Accredited Testing Laboratory
CHPL – Certified Health IT Product List
EHR – Electronic Health Record
HIT – Health Information Technology
ONC – Office of the National Coordinator
ONC-AA - ONC Approved Accreditor
ONC-ACB - ONC-Authorized Certification Body
PCP – Permanent Certification Program

Meaningful Use

HITECHAnswers and 4Medapproved partner to bring you the latest information and guidelines regarding HITECH and Meaningful Use!
Learn More.
HIPAA Consulting Services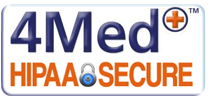 To learn more about 4Med+ HIPAA Consulting Services, click here.
Professional Training Courses

Fore more information about 4Medapproved training courses, including HIPAA training, click here.
Last Updated: March 20, 2013