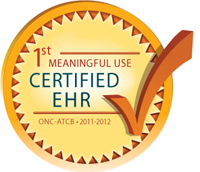 ChartLogic was one of the very first electronic medical records systems in the industry. The core product innovation was built upon the belief that doctors need a cost-effective way to document their patient encounters and then store the patient records electronically. Without requiring doctors to change their workflow, ChartLogic allows doctors to complete a patient chart electronically with ease, in less time, and at a fraction of the cost of conventional paper charts. ChartLogic's superior PrecisionVoice technology allows doctors to continue charting the way they have for years—using their voice.
With its simple but powerful tools, ChartLogic stands alone as the only electronic health records system that your practice will actually use.
Today ChartLogic has users in over 40 medical specialties. The ChartLogic EHR Suite contains the following products:
Electronic Medical Record (EMR). The primary goal of ChartLogic EMR is to electronically capture the clinical encounter without making the doctor change the workflow. Using ChartLogic PrecisionVoice™, doctors can document patient visits in less than 90 seconds.
Practice Management (PM). ChartLogic PM is the most powerful practice management system on the market today. Extremely easy to use and loaded with helpful tools, ChartLogic PM it is all about managing billing problems before they hit the practice's A/R reports.
Document Management (DM). While ChartLogic EMR eliminates the paper charting process for the doctor, ChartLogic Document Management transforms paper clutter throughout the rest of the clinic into a truly paperless office. Scaled to meet the needs of small practices as well as large corporations spanning multiple locations, DM houses a comprehensive suite of tools for scanning, importing, and managing documents.
Patient Portal. Doctors and patients can communicate with each other using this secure web technology. Patients can pre-register for the clinic, pay bills, request appointments, and track their personal records using the patient portal.
Patient Education. Doctors can save time by educating their patients with three of the following tools: (1) ChartLogic Brochure Maker, which allows the physician to customize or build new educational materials to hand to the patient; (2) ChartLogic Orthopedic Cinema, which allows staff to play movies to educate patients on conditions treated by orthopedic surgeons; and (3) ChartLogic Orthopedic Animator, which allows the physician to use 3D images to model, animate, and display orthopedic conditions and surgical procedures.
ePrescribe. Patients no longer have to wait several hours for their prescriptions to arrive at the pharmacy, and pharmacies no longer have to decipher illegible handwriting—everything is done electronically. The prescription-filling process is easier, safer, and smoother with ePrescribe.