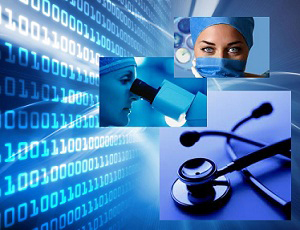 The study or academic field of Informatics takes the application of information technology (IT) to other fields and takes in the impact of the surrounding community. It is the science of information. Health Informatics is also known as clinical informatics, healthcare informatics, or medical informatics. It brings the information science, computer science and healthcare together. It uses computers, clinical guidelines, medical terminologies, and information systems. It is applied to nursing, clinical care, and public health to name a few areas.
The industry defines Health Informatics:
HIMSS: Clinical Informatics (aka Health Informatics) promotes the understanding, integration, and application of information technology in healthcare settings. This helps to ensure adequate and qualified support of clinician objectives and industry best practices.
wiseGEEK: Clinical informatics is a method of organizing information in the health care industry. It blends information technology, computer science and biomedical informatics. Clinical informatics is a field that is constantly striving to make information more accessible in the simplest way. It involves storing, managing and accessing important health records.
Stanford School of Medicine, Center for Clinical Informatics: Clinical Informatics is the scientific discipline that seeks to enhance human health by implementing novel information technology, computer science and knowledge management methodologies to prevent disease, deliver more efficient and safer patient care, increase the effectiveness of translational research, and improve biomedical knowledge access.
US National Library of Medicine, National Institutes of Health: Health Informatics is "the interdisciplinary study of the design, development, adoption and application of IT-based innovations in healthcare services delivery, management and planning."
Resources

Last Updated: April 2, 2013