The 4Med Training Program is the premier online education program dedicated to the Healthcare Information Technology industry. The self-paced online curriculum is designed to meet the needs of busy professionals with practical lessons which apply to 'real world' consultancy and employment. The unique 4Med+ educational approach incorporates contextual and audio/video content with LIVE practice sessions, helpful review quizzes and exams.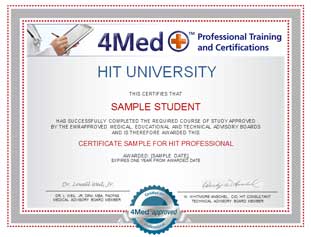 Participants in 4MedPro training programs are also provided a web-based community of HIT professionals through the 4MedProNetwork and access to FREE resources as well as marketing opportunities for their businesses and services through the 4Medapproved sponsorship programs.
Detail regarding current and upcoming certification paths are outlined below. Improve your presence in the HIT market today!
Certified EMR Office Professional (CEOP)
The 4Med CEOP EMR Office Professional Certificate instructs students on the topic of electronic health records. Participants also engage in hands-on workflow exercises utilizing a certified EHR/EMR application.
$449
Certified Healthcare Technology Professional (CHTP)
The 4Med CHTP Certificate helps Business Associates (BA's), technology and office specialists become knowledgeable on the topic of EHR/EMR and healthcare information technology.
$449
Certified Healthcare Technology Sales Professional (CHTSP)
The 4Med CHTSP Certificate for VAR's (value added resellers) will help sales professionals and specialists become knowledgeable on the topic of electronic health records and healthcare information technology. Includes industry terminology and sales related content.
$449
Certified EMR Management Professional (CEMP)
The 4Med CEMP Certification delivers a depth of understanding for consultants, project and practice managers regarding EHR/EMR, electronic workflow and the steps required to best facilitate ambulatory EMR implementation and post-implementation management.
$449
Certified Healthcare Technology Hiring Professional (CHTHP)
The 4Med CHTHP Certification program is designed to engage employment professionals on the topic of Healthcare Information Technology, Electronic Medical Records and Employment Methods in the HIT Vertical.
Additional HITR courses available in "Interviewing Skills for HIT and Healthcare Professionals" and "Interviewing Methodologies for Healthcare HR Professionals"
$449
Certified HIPAA Security Professional (CHSP)
The 4Med HIPAA Compliancy and Security Certificate program addresses the topics of regulation and requirements in the Health Insurance Portability and Accountability Act. Detailed lessons covering the privacy and security rules map to the regulatory requirements for Business Associates, IT Professionals and Medical Staff Managers.
$449
Certified HIPAA Workforce Professional (CHWP)
The Certified HIPAA Workforce Professional (CHWP) introduces HIPAA Security and Privacy regulations with 8 short course modules and an audio/video review for a complete understanding of compliancy for medical professionals. Accomplishing the workforce training requirement for compliancy mandated by the HIPAA Act.
$199
Become a Hielix Partner

Join the Hielix channel to help practice customers realize cost savings and revenue opportunities associated with the adoption of EHR/EMR. Click Here.
Join the 4MedPro NETWORK
Join the cooperative community for HIT and EMR Professionals!
Learn More.
Market your HIT Services

Tap into the ProPage Marketing System and become immediately relevant to the healthcare vertical!
Find out more.