When implementing an EHR, it's important to remember that there are many technologies required to support the EHR system as a whole. Here are a few important hardware options:
Slates and Pads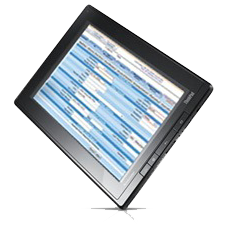 Tablet PCs offer the most mobility in the office. Their transportability and light weight make them a popular option, allowing doctors to document at the point of encounter as they would with paper records. This is not to say that they are always the best choice as there are a number of details to consider such as battery life, cost, steeper learning curves and moderate durability. When selecting a medical tablet you'll need to consider which features are most important to you and your practice.
Another contender in the tablet market is the smaller, lighter pad units. iPad® and Android® are introducing various handheld products. Thre are apps on the market designed to work seamlessly with many of the major certified ambulatory EHR's. There are even some stand-alone EHR apps. These pad units are smaller and lighter than the standard EHR Tablet PC, but are intended to provide some of the same features and functionality at a lighter weight and lower cost. Some will fit perfectly into the pocket of a lab coat. Check with your vendor or consultant before selecting a pad. You will need your pad to meet very specific EHR vendor application requirements.
Servers
Servers generally fall into two categories: web-based and client-based. While web-based servers tend to be less costly, a client-based is typically more reliable. Depending upon the size of your medical environment, a simple tower style server or expandable rack or blade type may be considered. Dependency on your server is extremely high, so it is critical that you purchase a carefully selected and configured dependable product with a technical support system available for maintenance and emergencies.
For more information on choosing a server, visit our EHR server page.

Networking
Your network connects each of your EHR computers to one another, to the EHR system and to the Internet. Your software and hardware will dictate the type of network you need. You will need a reliable internet service provider and a high-quality secure wireless network, if you plan to use any wireless technology such as tablet PCs, laptops, pads or PDAs.
Workstations and Desktops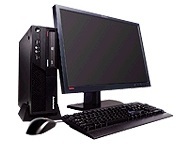 Workstations can be used in conjunction with tablet PCs and laptops or on their own in each treatment room. Because the workstation is a relatively uncomplicated and inexpensive technology, many offices choose them for their user-friendliness. Workstations are often an ideal option if an office has many providers but few treatment rooms, thus the office is not required to equip each provider/assistant with a personal tablet PC or laptop. All-in-one desktop units can save space and are reasonably priced. Housing all components interior to the monitor as opposed to requiring a separate tower and display. Some even have touch screen capability, similar to the digitized tablet but at a lower expense to the practice. Workstations can be housed on powered medical carts to permit greater mobility in the exam rooms and around the practice.
Notebooks and Tablets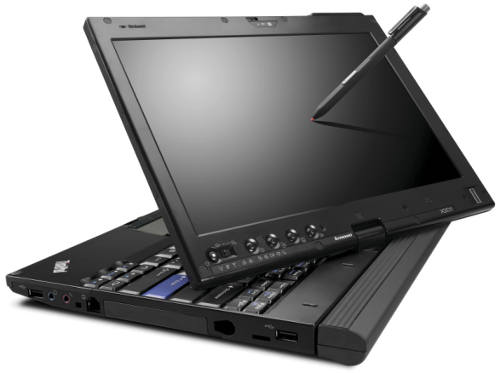 Standard laptops, since they are lower in cost, are an ideal solution for nurses and assistants who require some mobility but who do not require the full tablet functionality. Laptops can also be placed on non-powered rolling carts providing convenient mobile access while permitting the user to have their hands free.

Scanning and Printing
Imaging devices, mainly printers and scanners, make the transition between paper and electronic documents easy. Multi-function devices that have both print, fax and scan capabilities are cost-effective options where limited scanning will be done. For the initial implementation phase, high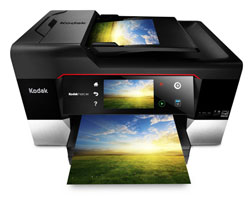 speed scanners can be purchased or even rented to handle the heavy scanning of initial patient records into the medical record system.
Medical Devices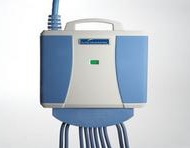 Medical devices connected to EHR technology will save time and reduce opportunities for transcription errors. Common devices that can interface with an EHR include ECG machines, holter recorders and vital sign monitors. An interface for these devices may be required by the EHR vendor at additional cost. See our Medical Device buyer guide for more information about purchasing EHR medical devices.
Enhancement Technology
There are a number of different hardware and software products to help make your practice run smoother. Although these products can make your EHR cost add up, they can greatly increase efficiency. One popular timesaver is voice recognition technology, which allows physicians to immediately and easily edit each patient's chart by speaking in a microphone. Turning their talk-to-text. Many of the EHR's even permit the voice activation software to assist them in navigating menus in their software.
Another product that many practices find invaluable is a patient check-in and payment-capture service. This provides practices with a portal for patients to fill out electronic intake forms, verify information, check insurance eligibility in real-time and pay balances and co-pays immediately via credit card. All patient information is then securely stored for easy access. With an additional interface– many can import that data directly into select EHR patient billing records.


Meaningful Use

HITECHAnswers and 4Medapproved partner to bring you the latest information and guidelines regarding HITECH and Meaningful Use!
Learn More.
Free EHR Audiobook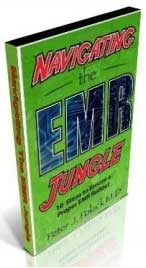 Navigate the EHR Jungle with help from Dr. Peter J. Polack MD! For practice partners and practice managers who want the physician's perspective on why, what and how to go about making this huge investment decision. Find out more.
Professional Training Courses

Fore more information about 4Medapproved training courses, including HIPAA training, click here.
Last updated: April 10, 2013