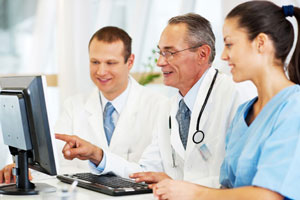 EHR implementation system wide is much more than simply deciding which EHR is best for affiliated practices. There are a number of steps a group should take to help ensure their new technology is utilized in as smooth and efficient a way as possible. Making the most of your investment in practice rollout will take thought, time, effort, and a plan.
Key Elements to a Successful EHR/EMR Implementation
1. Device Selection: Physical space, power and network infrastructure as well as price will be deciding factors. But also important to consider are the ergonomics, cable management, adjustability, weight / ease of use for portable devices. Will the devices be mobile, on a cart, a notebook, or tablet? Or will the devices be desktop and stationary?
2. A detailed plan for new equipment: with exact names and locations mapped out for every new end-user device. This plan will ensure EHR installation goes smoothly, with every device accounted for and in its correct location. Questions that need to be asked include:
What is the correct number of end user devices required to meet our needs?
Where should we locate end user devices?
What types of end user devices are most appropriate?
What is the space and network infrastructure implications and what upgrades are required to accommodate these new devices?
3. An EHR Implementation Team: Once the infrastructure and physical devices are in place, you must begin the even more important process of integrating the technology with the workflow of the staff. New processes need to be created and old processes reworked. An 'implementation team' needs to be formed to assist physicians and support staff in making key decisions like workflow and cultural changes. For most providers, an electronic environment will require new types of thought processes which mean the implementation team should help physicians evolve the clinical workflows for prescriptions, documentation, lab orders, and other practice functions. The more training and hands-on time the providers and support staffs have with the new system before go-live, the more likely they will feel comfortable keeping up as the EHR rollout moves forward. And the better educated the staff is, the more they can take advantage of all the functions EHRs have to offer - which means better insight into patient care and clinical procedures.
4. Health Information Exchange: A data-sharing model should be in place as soon as possible, and in fact could play a factor in the choice of EHR: Many EHRs have varying degrees of built-in communication and data exchange. Look for significant changes to the exchange capabilities in the 2014 certified EHR technology.
5. Keep Patients Connected: Patient connectivity is now a part of many organizations, but the idea is still very new. Secure web portals allow patients to schedule appointments, receive test results and communicate with their clinicians. Integration with Personal Health Records (PHR) systems, such as Microsoft's Healthvault, allows patients to create their own web-based digital health record. These features can help a hospital stand out in the modern health market, securing their referral base as well as reaching out to new patients.
6. Participation and Securing Reimbursements: Incentive payments are available to those who are eligible to participate and attest to meaningful use of certified EHR technology. An EHR system also affords other significant opportunities to negotiate better reimbursement. Several leading organizations are negotiating payer contracts that include bonus reimbursement for meeting quality targets. Some of these contracts offer incentives of up to 10 percent - but the key to getting the most out of any of these opportunities is clinical integration. Hospitals need to form cooperative care networks with physicians and other providers and to use the EHR to track performance and report outcomes.
7. Contract Consulting Assistance: In any size environment consulting assistance should be considered for an EHR rollout. The consulting team should have experience in management and oversight of these projects. Organization and professionalism are the key to adopting best practices as EHR integration begins.
Solutions, Tools, and Products

Review, compare, and select EHR Software Solutions.
Resources
Related Terms and Acronyms
EHR – Electronic Health Record
PHR – Personal Health Record
HIE – Health Information Exchange

Meaningful Use

HITECHAnswers and 4Medapproved partner to bring you the latest information and guidelines regarding HITECH and Meaningful Use!
Learn More.
HIPAA Consulting Services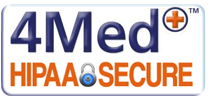 To learn more about 4Med+ HIPAA Consulting Services, click here.
Professional Training Courses

Fore more information about 4Medapproved training courses, including HIPAA training, click here.
Last updated: February 26, 2013