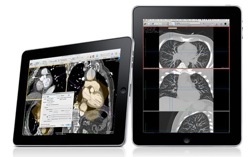 Overall healthcare IT spending is expected to increase exponentially within the next 5 years.
Much of that growth stemming from spending on electronic health record (EHR) solutions, mobile health apps and efforts to comply with new government requirements.
Recent mergers and acquisitions in the healthcare IT market point to growing private-sector interest in software, which will see sales grow at rate of more than 30% annually from 2012 to 2014.
A recent study attributed some of the increase in spending to the Healthcare Reform Act, the new ICD-10 coding system, and adoption of EHR systems, which will be mandatory by 2015. Also a factor: Medicaid enrollment, which is expected to increase by 16 million people by 2019.
ICD-10 is a comprehensive medical coding system that includes more than 55,0000 codes; hospitals are required to be using it by Oct. 1, 2013.
The adoption of EHR technology - hastened by the requirement that healthcare facilities must achieve "meaningful use" of such systems - is forcing healthcare providers to move ahead with technology implementations faster than ever.
In addition, a recent industry report notes that consumers are keenly interested in the benefits of mobile health technology. The mobile health market is estimated to hit $2.1 billion by the end of the year. It has grown by 17% in each of the past two years.
The main driver behind that double-digit growth rate is the increasing use of smartphones and pads. By the end of 2011, 50% of mobile phones in the U.S. are expected to be smartphones, up from 21% in 2009.
As a result, healthcare-related mobile apps are set to become hugely popular. A major research firm projects that some 500 million people will be using such apps within five years. Visit our 4Medapproved medical APP directory for examples of this rapidly increasing industry.
A recent online survey sponsored by the wireless industry association CTIA found a similar level of interest in health-oriented apps. In the CTIA survey, 78% of respondents said that they were interested in mobile health products and services and 15% said that they were extremely interested in learning more. "This signifies that the awareness among the consumers regarding [mobile health] services is increasing, which has played an important role in the growth of the market," the RNCOS report said.
More than 72% of physicians in the U.S. are now also smartphone users, according to the RNCOS report. More than 20% of all U.S. physicians have iPads.
Healthcare apps for smartphones and pads are one of the main reasons for this increased usage. There are already more than 10,000 mobile applications related to health, and about 40% of those are designed for healthcare professionals. That figure includes remote monitoring and healthcare management applications. Even Apple's iTunes store has about 6,000 mobile health apps.
As the mobile health market surges ahead, there is an emerging call within the medical community for a dedicated wireless spectrum for healthcare use. That spectrum would augment commercial mobile broadband networks, which have significant coverage gaps and face reliability issues.
Earlier this year, healthcare providers and the aeronautics industry association urged the Federal Communications Commission (FCC) to approve a mobile body area network (MBAN) plan. The MBAN radio spectrum would create a wireless body sensor network for remotely monitoring critically and chronically ill people via small wireless devices. That would allow caregivers to track a person's health status and take swift action in any emergencies.
The American Telemedicine Association also has asked the FCC to consider setting aside small portions of spectrum for the exclusive use of healthcare professionals. No decision on the spectrum requests has yet been made.
All of these medical industry initiatives indicate that market growth will be exponential within the next few years. Technology consultant groups educated specifically to address medical community needs - will be poised to absorb this significant rise in demand for consultant guidance and technology assistance.

Meaningful Use

HITECHAnswers and 4Medapproved partner to bring you the latest information and guidelines regarding HITECH and Meaningful Use!
Learn More.
HIPAA Consulting Services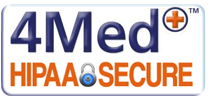 To learn more about 4Med+ HIPAA Consulting Services, click here.
Professional Training Courses

Fore more information about 4Medapproved training courses, including HIPAA training, click here.
Last Updated: March 3, 2013