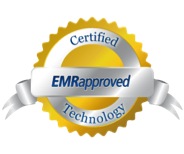 Skilled 4Medapproved 4Med+ technical professionals bring selected equipment into our "mock physician practice" showroom to evaluate with the latest EHR/EMR solutions.
We test each selected equipment item for reliability, durability, EMR connectivity and efficiency and ultimately award our "Certified Technology" seal to the products which perform best in our unique testing environment.
Additionally, we bundle certified technology products in our store-sites to provide value and guaranteed performance in your healthcare environment.
To find certified technology products and packages, visit our two EHR/EMR technology store-sites:
EMR Compatible Computer Hardware & Technology:
http://4Medapprovedtechnology.com
EMR Companion and Add-on Products and Services:
http://4Medapprovedproducts.com
Technology Vendors and Sponsors:
If you would like to have your product evaluated for participation in our "Certified 4Medapproved Technology" program, please contact our program and listings manager @ (800) 671-1028 ext#77 or e-mail: cindy@4medapproved.com.


Meaningful Use

HITECHAnswers and 4Medapproved partner to bring you the latest information and guidelines regarding HITECH and Meaningful Use!
Learn More.
HIPAA Consulting Services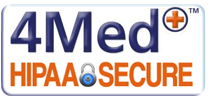 To learn more about 4Med+ HIPAA Consulting Services, click here.
Professional Training Courses

Fore more information about 4Medapproved training courses, including HIPAA training, click here.