5 Simple Steps for EHR/EMR Savings
September 15, 2011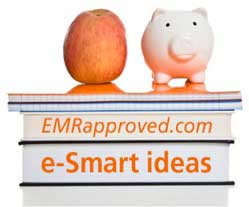 If you are investigating EHR/EMR solutions you know that the process can be complicated and potentially quite expensive. Whether you qualify for the HITECH government subsidy or not, finding ways to save time and money on this project can only benefit you and your practice.
As a professional HIT consultant I am tasked with helping medical community clients find ways to cut costs without compromising quality or efficiency. Simply looking for cheaper EMR's or low-end technology will not help accomplish the goal of best electronic solution; so the trick is to find quality cost cutting measures.
To use my well-worn consultant analogy; buying an EMR for your practice is much like selecting a car for your transportation.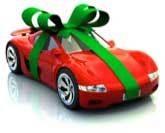 Do you want a shiny luxury car with the newest bells and whistles?.
Might you be OK with an economy car with fewer features?
Would you be willing to drive a free car from your brother-in-law if it had ads for his local pizza place painted on all sides?
You also have the option of financing or leasing your EMR vehicle and adding accessories designed to enhance and best fit your overall lifestyle. But much like the car purchase, many buyers start down the path excited at the prospect of shiny new technology then quickly bump into sticker shock.
EMR STICKER SHOCK
When negotiating the initial EMR contract, the devil is in the details. Meaning that EMR sticker shock happens when that lovely $499 per month per provider sits atop a plus +plus +plus column. Many vendors suggest to clients that their solutions are "all-inclusive". What this means for the most part, is that The EMR and PM components with basic software maintenance and support are included at the baseline price.
What they often fail to mention until well into the negotiations are things like clearinghouse fees, lab integration fees, medical device interface fees, patient portal costs, training costs, etc. Never mind that the darn thing needs hardware to run and the vendors have very specific ideas about which hardware is acceptable. So your three year old laptop and $35 wireless router from K-mart probably won't cut it.
That is the bad news. So, what steps can you take to save within this maze of information and make the overall experience less painful? Get the keys and the new car smell without breaking the bank?
You can research, negotiate, weigh the options and subtract from those plus column items. Here are a few suggestions for total project savings.
e-Smart Simple Step 1 - Save on Licensing/Maintenance Fees
You have 2 primary options when looking at EMR licensing.
1) Onsite license (buy the car)
2) Remote/Cloud hosting (lease the car)
Larger practices will generally opt for the first. Smaller practices tend to lean toward the second. This is due in part to the nature of pricing for these two options. In the case of a larger practice (5+ providers), a server onsite with purchased licenses often makes more sense because the "per-provider" cloud solution fees add up quickly when you have a large number of staff. The smaller groups (1-5 providers) often are tight on space (not much room for server technology), have no in-house IT support to maintain a server AND prefer the monthly payment format to the big upfront costs. And when you price the options side-by-side, this is in-fact a logical financial breakdown. (see EMR project costing tool here)
Regardless of the selected hosting alternative, there are several methods of saving on these fees.
Traditional EMR vendors are fairly tight with their own pricing structures though some will engage in negotiation. You should certainly discuss individual licensing costs and the part-time practitioners/ admin staff licensing fees with your reseller or vendor representative. When they recognize that you are comparing alternatives in hopes of saving money, they will work to find areas within the contract to reduce costs for you.
Free EMR(ad-supported) vendors offer products with similar functionality to traditional options, but with advertisements embedded. The medical record portion of the software is free, but the plus column still exists and those plus signs can add up quickly. The overall price tag however, is generally lower than standard options. So if you are comfortable with evident advertising as you work, then this may be a good way to shave off several hundred dollars a year.
EMR Subsidy programs: offered by many local hospitals to affiliated and referring practices can certainly reduce the implementation costs of EMR. Contact any and all referring facilities in your service area to see what might be available to you. *Contracts with hospitals generally have a number of important clauses affecting how you will receive the subsidy. Carefully review the offer and compare it side-by-side with alternatives before making your decision… and read the fine print! Some regional extension centers can also guide you to subsidy offers in your area. For a list of REC's please click here.
Ongoing maintenance and support fees are associated with any and all of the licensing options and EMR choices above. This averages about 18% of overall licensing or an added $50-$200 per month per provider for remote host solutions. This price ratchets up and down depending upon how much and what type of ongoing support you request. A minimum is required to keep your EMR versions up-to-date and to provide baseline trouble ticket style support. In my experience, it is a good idea to select a robust support option in the beginning but establish an agreement which allows you to reduce those costs (adjust your plan) once your staff is up-to-speed. You may find your reseller/rep willing to negotiate aspects of the maintenance and support when you are close to closing the deal.
e-Smart Simple Step 2 – Negotiate Interface Fees
As a consultant I can tell you that the workflow efficiencies with interface between your lab, medical devices and other companion products certainly outweigh the ongoing investment. But you may find avenues of savings here.
Often the major lab companies will pick up the initial cost of the lab interface (LIS) or the EMR vendor will bundle that cost into the annual maintenance fee. However neither commonly covers the cost of a bi-directional interface(s) and/or ongoing maintenance. Depending on the initial cost of the interface, the annual support fee may be fairly substantial.
What I have found is that depending upon the volume of labs you submit, you may be able to negotiate a reduced fee directly with your selected lab company. They certainly want you to stay with them, so they may be willing to make the investment in you. Call the lab directly to discuss this possibility. Arm yourself with information regarding your volume of lab submissions.
As for other item or equipment interfaces, make a list of those to whom you also pay "per-use" charges. They will want to continue to receive that annuity and will likely have some flexibility in the pricing of that interface. Many will waive interface fees to continue receiving your business.
e-Smart Simple Step 3 – Save in the PLUS column

Most can relate to the moment in car buying when the manager of the dealership drops the contract on the desk and begins to explain the various added items and fees. What the heck is undercarriage coating anyway? What is a doc fee?
A similar moment happens when you review the proposed EMR contract. What is an eBO setup fee? What is formulary checking? Getting detailed answers to these questions can help you decide whether or not you really need these added items or services. You may also be able to reduce costs by choosing alternatives in some categories.
Training Fees:
Certified EMR vendors provide training in different ways. Some work exclusively via online and webinar sessions. Many of the larger vendors will send trainers to the practice for several days or weeks. Regardless of the method – training is one of the most important aspects of a successful implementation. DO NOT SKIMP on training! However, I have learned that most vendors will also negotiate training fees. Because it is one of the most expensive aspects of your initial cost - it is worth a few extra conversations with the reseller or rep to see how you might save.
Request a complete breakdown of all training costs. If the instructors are appearing onsite, make sure you know if travel + room and board are included in the quoted rate. Often that added cost is not mentioned until well after you have signed off on the base training quote. Consolidate your training into ONE trip and request single trainers when possible. This will save on airfare. Also have them breakout the travel and housing expenses. You may know of a less expensive local hotel or be able to provide suggestions for cheaper flights into your service area based on your experience.
Also, check the HIT job boards for local independent groups who can provide training for your new EMR. The vendors do not encourage this, but once the initial training is complete it can be MUCH less expensive to hire a local professional to assist with additional training needs.
If your solution offers only Web/Online training – request a "live" training session for your team with a support associate available to answer questions and walk through steps at the same time. Passive or pre-recorded lessons are OK for understanding basics, but are largely useless when tooling to meet the needs of your specific practice. Remote training is inherently less expensive, but you still want to get your money's worth. Local onsite assistance may also be available from independent consultants*.
Patient Portal Fees:
If your EMR vendor offers a patient portal integrated into the functionality of your new EMR (and many do)… find out if they offer any ad-supported options. Where you may not wish to see ads across the course of your day when working on the EMR, you may not mind if the patients view ads while checking online messages, making appointments or retrieving test results. Most consumers are accustomed to ads flashing at them from all angles while booking flights, hotels and other consumer services. The price difference can be dramatic. With one vendor the non-ad supported portal cost is $99 per month per provider. The ad-supported portal for that same vendor is FREE!
EMR Patient Portals are an excellent outreach and communication tool. If your selected EMR does not offer a portal, you may add one provided by an independent company. There are many options and many price ranges (see portal directory here). With so many to choose from, you will likely find an option that fits your budget requirements.
Electronic Claims Clearinghouse Fees:
When incorporating PM (practice management) features into your implementation you can review the various claims clearinghouses and compare pricing.
There are several national medical claims clearinghouses throughout the country all serving essentially the same role; that of scrubbing claims and then transmitting the claim information securely to insurance carriers electronically. By comparing pricing for the features you most require, you can shave off a healthy percentage as you move forward with your new EMR/PM solution.
Here is a short list of national clearinghouses you might compare (in alphabetical order) with contact information to begin your investigation:
Availity
Capario
Emdeon
ENS Health
ET&T
Gateway
MPMedi
RelayHealth
ZirMed

Before comparing services, confirm that your selected EMR product supports the clearinghouse you prefer.
Depending upon the size and scope of your EMR project, The PLUS column may have numerous options for negotiation and reduction. Examine those items carefully and make the reseller/rep detail each item and associated costs. If you have invested in a workflow analysis, consult your analyst to discuss how these optional items will affect your workflow efficiency. This can help you decide which bells and whistles are necessary and which may be unessential.
e-Smart Simple Step 4 – Save on Technology
The EMR vendor may provide a quote for hardware from a single manufacturer (popular partnerships are with Dell and HP), however with a little bit of sleuthing or by hiring a skilled HIT consultant you may research brand options and find more competitive pricing. Ask the vendor not only for their hardware quote (if available), but also ask for the list of minimum specifications. You may use this comparison quote and list to identify hardware with better pricing.
Another suggestion; www.4medapproved.com offers all major brand names, guaranteed compatible with all certified EMR solutions (no need for spec sheets) and provides FREE online quote comparisons and toll-free phone guidance (800) 671-1028 to help select the best hardware at the best prices.
e-Smart Simple Step 5 – Save time and money by hiring an HIT guidance professional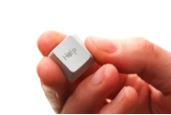 The best way to ferret out all of the little savings hidden in the EMR buying process is to seek out a local independent HIT professional.
As is true in car buying - the sales rep is the source for most information. Sales reps can be helpful, but they are often incented more toward upping your price tag than helping you save. Their income may depend on it. I always bring a knowledgeable car-geek friend to buy my new vehicles. My friend cares about me and knows I won't pick up the next dinner check if I over-spend.
The independent HIT consultant is generally working in your best interest as well. If they don't, you have no reason to pay them. Requesting a thorough IT assessment and workflow analysis before considering hardware and software options can help you save by identifying target areas for most streamlined efficiencies.
A knowledgeable consultant can easily create price comparative hardware quotes that meet vendor requirements, identify companion products and services with ease and may even be able to negotiate detailed contract points for you with product vendors.
They will also be able to provide initial installation and long term support for your new IT infrastructure. Some groups even have local professionals to help with additional training for your staff. To find a certified local HIT professional in your area, visit our nationwide consultant directory online or call (800) 671-1028 for assistance.
If buying an EMR is like buying a car, then the extra time and effort you invest in research will pay off in the end. You will likely be steering this big purchase and the associated payments for several years. You want to select carefully, negotiate smartly and drive off the lot happy without buyers' remorse.
To subscribe to our bi-weekly e-Smart ideas column and receive EMR guidance updates, please complete this form.
For questions or comments, please contact:
Wendy Whitmore, Managing Partner/CIO
SSG Consulting, LLC/4Medapproved.com Corp
w.whitmore@4medapproved.com
**eSmart ideas is a free publication of 4Medapproved.com Corp. All articles are proprietary and are approved by the corporate medical and consultant advisory boards. eSmart articles may not be reprinted or published without express written permission of 4Medapproved.com Corp and its subsidiaries.