PrimeSUITE
The Premier EHR Software Solution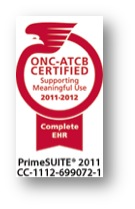 GREENWAY is committed to ensuring customers always have state-of-the-art healthcare IT solutions. PrimeSUITE 2011 is 2011/2012 compliant and was certified as a Complete EHR by the Certification Commission for Health Information Technology (CCHIT®), an ONC-ATCB, in accordance with the applicable eligible provider certification criteria adopted by the Secretary of Health and Human Services. The 2011/2012 criteria supports the Stage 1 meaningful use measures required to qualify eligible providers and hospitals for funding under the American Recovery and Reinvestment Act (ARRA). In conjunction with our Meaningful Use Dashboard providing a checklist of reporting compliance on a daily basis, and our series of national training sessions on Stage 1 measurements, Greenway customers have a complete set of solutions to achieve certified EHR incentives capture.

GREENWAY earned two "Best in KLAS" awards for PrimeSUITE, our integrated electronic health record (EHR) and practice management solution, in the annual 2010 Top 20 Best in KLAS Awards: Software & Professional Services report. For the fifth consecutive year, PrimeSUITE received the Best in KLAS award in the ambulatory EMR category for practices having between six and 25 physicians. Additionally, in the practice management category, PrimeSUITE received a Best in KLAS award for practices having between six and 25 physicians for the third consecutive year. These awards are based on information gathered by physicians, nurses and other healthcare professionals that utilize and rely on the technology on a day-to-day basis. Greenway's consistent recognition from KLAS for the past six years illustrates our commitment to product excellence and superior customer service. KLAS (http://www.klasresearch.com/) helps healthcare providers make informed technology decisions by offering accurate, honest and impartial vendor performance information.
Greenway takes KLAS recognitions extremely seriously and is proud of our accomplishments and awards. We believe so strongly in the KLAS process that we mirror our internal reviews for feedback about development, usability, workflow, functionality and peer-to-peer sharing after KLAS.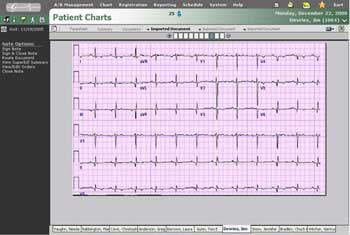 In addition to PrimeSuite, Greenway offers the following enhanced EMR products and services:
PrimePATIENT ®


Our secure patient web portal enhances physician-patient relationships and offers self-service options in place of an office visit or phone call. Service highlights include appointment scheduling, preregistration, refill requests and bill pay

PrimeEXCHANGE ®


Our interoperability engine allows seamless data exchange between your practice, other practices and the entire healthcare and stakeholder community. Supported transactions include patient demographics, patient insurance, charges, lab results, microbiology reports, transcriptions and radiology reports.

PrimeRESEARCH™


Our research solution provides access to a vast network of clinical trials, evidence-based medicine and pharmaceutical research, as well as clinical and financial benchmarking services. The result — increased practice revenues and access to patient care improvements.

PrimeMOBILE™


Our mobile desktop provides anytime, anywhere access to the information physicians need most. From any cell phone or smart phone with a data plan, physicians can access schedule, rounds and patient data or capture charges with the touch of an icon.

PrimeRCM®


Our revenue cycle management (RCM) service helps your practice reach financial objectives by streamlining the collection, use and delivery of patient and claims information. We help improve profitability and productivity while reducing costs and overhead.

PrimeENTERPRISE™


Complete practice management solution providing the flexibility of a centralized process linking multiple sites or an autonomous analytics and administrative workflow management function with configuration options combining to maximize the continuum of care.
For more information please visit our website at www.greenwaymedical.com