PACS is a medical imaging technology which provides storage of and access to images from multiple modalities (device types).
Electronic images and reports are transmitted digitally via PACS, eliminating the need to manually file, retrieve, or transport actual films. The primary format for PACS image storage and transfer is DICOM (Digital Imaging and Communications in Medicine).
Imaging systems consist of these major components:
Imaging modalities such as X-ray computed tomography (CT) and magnetic resonance imaging (MRI)
A secured network for the transmission of patient information
Workstations for interpreting and reviewing images

Radiologist workstation Equipment configuration Non-Mammography
Radiologist workstation - Mammography

Archives for the storage and retrieval of images and reports
Web viewer
Patient Access method for image retrieval - CD burner or a cloud base system
Additional Items:
Speech Solution template system (can be integrated into the RIS/PACS selection)
HL7 interface for orders/ADT/Results
Combined with emerging web technology, PACS has the ability to deliver fast and efficient access to images, interpretations, and related data. PACS reduces the time and trouble associated with traditional film-based image retrieval, distribution, and display.
To learn more about how imaging integrates with your EMR, visit our EMR University page: EMR 108: Integration of PACS Solutions (Radiology) and Labs with the EMR .

Meaningful Use

HITECHAnswers and 4Medapproved partner to bring you the latest information and guidelines regarding HITECH and Meaningful Use!
Learn More.
HIPAA Consulting Services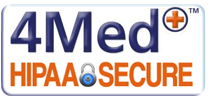 To learn more about 4Med+ HIPAA Consulting Services, click here.
Professional Training Courses

Fore more information about 4Medapproved training courses, including HIPAA training, click here.