Understanding HAI's and the Need for Medical Grade Computer Technology

The prevention of Hospital-Acquired Infections (HAI) is an overriding concern for the Healthcare Industry, one that has made Medical Grade Technology more relevant than ever to patients and healthcare workers alike.
Tragically, HAI's are responsible for extended illnesses and hospital stays and are not supported by insurance companies or patient funds. Hospitals and healthcare facilities must absorb these associated costs. Consequently, the call for preventative measures is an urgent and ongoing one.
Medical Grade Keyboards, mice and computers impede the transfer of germs, bacteria and infection via computers and peripherals used by nurses, technicians and medical staff in clinical areas. As a result, these washable keyboards enhance patient safety and infection control, reducing HAI's born from the handling of hospital keyboards by changing shifts of staff.
Disinfection of computer surfaces and computer peripherals is key to the reduction of HAI's in healthcare environments and a key component of Medical Grade Technology. However, "washability" alone is insufficient for the reduction of HAI's or to uphold the standard of care that Medical Grade Technology providers.
Medical Grade computers feature waterproof housings, and bezels that repel moisture. In addition, their surfaces are manufactured with disinfection in mind.
True Medical Grade Keyboards and Mice are:
Fully sealed and submersible. These high quality washable keyboards lock out moisture and contaminants. Their waterproof designs are ruggedly constructed to endure repeated disinfection with a variety of EPA-approved disinfectants including up to 10% bleach solution.
Lockable. Waterproof keyboards that lock can be disinfected without disengaging cables, or causing gibberish to appear on the screen. No special staff need be dispatched to remove the keyboard for disinfection. It can be cleaned on the spot quickly and effectively. Another benefit: keyboard locks prevent unauthorized hands from accessing private (and HIPAA regulated) information.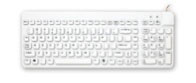 Hygienic White. Computer peripherals that are not white mask dirt and splatter. Hygienic white is vital for viewing trouble spots and delivering thorough disinfection.
Disinfectable with EPA-Approved Products. Medical Grade Keyboards and Mice are built to withstand repeated cleanings with effective disinfectants including alcohol, hospital-grade disinfectants and up to 10% bleach solution. These rugged waterproof keyboards are designed to perform without failure.
Attachable via Magnets. Medical Grade Keyboards can be equipped with magnets under the skin that attach the keyboard cleanly to metal surfaces such as WOW's or wall mounts. Double-sided tape or Velcro™ collect germs and cannot be thoroughly disinfected to uphold the Medical Grade standard of care.
Backlit. Variable backlights enable proper keyboarding in hospital areas where dim lighting is common, such as OR's, ICU's and patient rooms during night shift hours. Washable keyboards that offer variable backlights deliver an uncompromised level of performance.
Silent. Noise-free keyboards support patient comfort and minimize distractions.  Medical Grade hospital keyboards provide thoughtful features that speak to medical users' needs.
The exponential rise of HAI's, including the ubiquitous MRSA (methyl whatever) bacteria increases demand for Medical Grade Technology and raises its impact on infection control and patient safety. In the fight against HAI's, Medical Grade Technology proves to be a brave new warrior.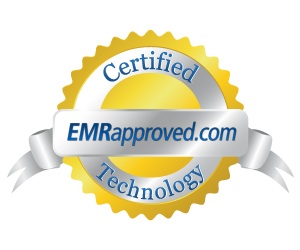 Visit our EMR compatible product store site to find Medical Grade PC's and Accessories for use in reducing HAI's in your environment!
To learn more about 4Medapproved recommended medical grade products, please visit:


Last Updated: June 11, 2012