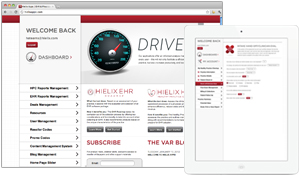 4Medapproved.com and Hielix aim to address physician practice woes via a product package of two web apps: the Hielix EHR Roadmap (EHRR), and the Hielix Healthy Practice Checkup (HPC). Each app with its own purpose, result in a comprehensive report jam-packed with notes to consider and recommendations unique to your practice. See for yourself:Download a sample report
So, what am I getting?
The end result of going through either (or both) of the Hielix Apps in a thorough report – a comprehensive look at the individual practice and a series of valuable considerations for your unique practice needs. The intelligence built into both the EHR Roadmap and the Healthy Practice Checkup provide recommendations specific to the size, geographic disparity, level of technology adoption, practice specialty, etc. This intelligence allows the Hielix Apps product lineup to provide value to a broad range of ambulatory physician practices.
How are the recommendations in the Hielix Apps determined
The unique intelligence embedded within Hielix Apps have been taken from interactions with over 10,000 physicians, including direct work with ambulatory practices. The intelligence gathered over those interactions allows both the Roadmap and HPC to provide specific considerations to individual practices regardless of size, specialty, geographic disparity and overall level of technology adoption.
The applications save physician practices thousands of dollars in consulting or professional services fees, while providing intelligent insight into the specific considerations a practice should make when either assessing practice workflows and efficiencies, or determining the EHR that will work best for their practice. With an understanding of the unique characteristics of an individual physician practice and their impact on the selection of an EHR, the application provides detailed practice considerations regarding:
How many physician and mid-level clinicians are active in your practice


The practice's unique specialty and sub-specialties


Individual concerns regarding operations, or the adoption of healthcare IT within the practice


Understanding how the workload of a practice (tests, labs, insurance providers, etc.) affect the selection of an EHR


Hielix aims to provide healthcare IT solutions that improve quality and outcomes
Be sure to check out our blog for the latest in industry news.
---
Get Started!
For further information regarding the Hielix Apps process or to receive guidance as you navigate the tools, please call: (800) 671-1028. 4Medapproved Certified EMR Counselors can assist.
Click the button on this page to order Hielix Apps and receive our special $50 4Medapproved report savings.
Hielix Healthy Practice Checkup: $199.00 (regularly $249)
Hielix EHR Roadmap: $199.00 (regularly $249)
Bundle my Apps: $349.00 (save a total of $199!)