Is it necessary for medical practices to hire a CIO (chief information officer)?
Practice size and technology focus has a great impact on the need for an in-house CIO (Chief Information Officer). Due to the nature and costs associated with this level of hiring, it is recommended that the practice owner or manager first assess whether or not the current or planned technology infrastructure requires a full-time onsite officer.
In a medical practice focused on patient care, the discussion of whether or not to hire a CIO might be more compelling. This is due to the fact that most CIO's will contribute real-time operational support within the organization rather than providing innovative oversight.
Typical CIO contributions will include:
Supervision of the IT portion of the organization (IT infrastructure, Operations, EMR/PM/HIPAA Compliancy)
Focus on real-time technical operations of the business (organic)
Building of workflow processes and the core team to implement and execute
Responsibility for the organizations technology investments
Strength in leadership for technology initiatives
PROs
Hiring the in-house C- level staffer has its advantages. If a practice can afford this level of executive, he or she can add tremendous value. A CIO embedded in a medical environment can incorporate real-time understanding of day-to-day operations in technology decision making and structure. Truly understanding HOW a medical team approaches their R&D, communication, workflow and billing from "within" can guide more streamlined technology solutions.
In addition, the relationship between C-staffer and staff can engender confidence in technology initiatives. Medical staffs inherently and frequently reject change in their environments. Having a familiar and confident leader will assist in the adoption and acceptance of new technologies.
CONs
The CIO title comes with significant experience and generally with significant associated cost. If you really want someone with both technology and healthcare supervisory education and experience at this level – the annual salary can outstrip any patient care staffing on the hiring horizon.
What are the HIT hiring options?
HIRE: A practice may hire a C-level staff person to oversee and/or manage day-to-day IT operations. If you are considering the hire of a CIO into your practice, there are some important criteria to assess.
1. WHO DO YOU WANT: When outlining the job description, make certain you understand the subtle differences between the titles. How will you take advantage of specific CIO skillsets.
2. WHAT DO YOU WANT: If you are planning to spearhead unique technological content or a product for your practice or community, identify the candidate's experience in leading a similar initiative. If you instead hope to launch an EMR or other technology initiative, establish the knowledge base of each candidate relevant to rollout in a real-time environment.
3. WHERE DO YOU WANT THEM: Identify the experience relevant to your medical practice setting. Many CIO titled candidates will have worked at executive levels within an inpatient environment. Ask them how they feel they could best translate that experience to the ambulatory platform.
4. HOW DO YOU NEED THEM: Connect with this candidate. If you can't relate to them, your staff probably won't be able to either. You maintain your existing staff because you all work well together. When you bring a supervisor into the mix, personality is a key component. Buy-in for new technology will only happen on a larger scale if your leadership is both charismatic and convincing. Make them convince you! Ask them why technology will improve the practice.
HIRE-IN AT A DIFFERENT LEVEL: A site may also consider a lower level technology director or manager. Skillsets and certifications in technology will generally command a higher pay scale. However, one option is to bring in a talented mid-level manager with aptitude and potential, then groom them to take-on higher level
1. WHO DO YOU WANT: If you are considering non-executive staff, review the experience level relevant to the practices existing and planned IT environment. Seek out a candidate with solid experience on all levels with an EMR/IT and HIT track record. Preferably in an ambulatory environment. Determine whether or not they wish to take-on higher level responsibilities.
2. WHAT DO YOU EXPECT: Let them know you are expecting them to exceed their existing skillset. That you are looking for a CIO to emerge. Give them the tools, but encourage them to rise to the challenge.
EDUCATE IN-HOUSE: Some practices may have tech-savvy staffers in house. Educating already familiar staff in the technology can win on a two-fold basis. You have someone who ALREADY knows how you work and what you need. You then leverage that aptitude and add education. Giving them the tools and resourced required to crossover to HIT support staff and advocate. TIPs for Considering HIT Education for in-house staff. Several educational resources exist to cross-train in-house IT or tech-savvy staff in HIT support.
1. Brick and Mortar Education: Send the in-house person to a local program within the Community College or Healthcare learning communities. The ONC, AHIMA and compTIA programs are hosted in many local community colleges. Also identify them to train on any new technology selected for the practice and cross-train the rest of the staff.
2. Online Education: Direct them to additionally or exclusively certify via an online HIT certification program such as the one offered by 4Medapproved.com . This allows the in-house staff person to attend to their current duties while also learning needed skills and information relevant to ambulatory practice technology.
OUTSOURCE: If the above suggestions are out of reach for financial and/or resource reasons, outsourcing the HIT oversight role is not only common but recommended, because:
1. Costs are reduced
2. In-House resources are more correctly allocated
3. Medical care remains paramount
Additionally… outsourced CTO/CIO level consulting can often be managed in a more fiscally conservative and strategic manner. Not only do these outsourced groups ALREADY have the knowledge base and tools required, but they can spread their knowledge over a broader spectrum of practices. Giving each practice the opportunity the dilute the costs associated with high level technology support.
Last Updated: April 2, 2013

Meaningful Use

HITECHAnswers and 4Medapproved partner to bring you the latest information and guidelines regarding HITECH and Meaningful Use!
Learn More.
HIPAA Consulting Services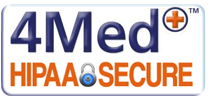 To learn more about 4Med+ HIPAA Consulting Services, click here.
Professional Training Courses

Fore more information about 4Medapproved training courses, including HIPAA training, click here.