The field of Health Information Technology (HIT) is always changing and requires on-going education and training. And it is the fasting growing IT sector. HIT Careers can include having skills and knowledge in electronic coding and billing systems, electronic health records (EHR) systems, networks for digital imaging, system implementation project management, data achieving and disaster recovery, informatics, and health information exchange. These career paths can be taken from the start or one can transition to them. The best ways to transition to HIT is to have a clinical background or an IT background.
Transitioning to HIT when you have a clinical background and knowledge gives you a good start to be successful. These clinical backgrounds can be from physicians to medical assistants. Available careers can include nursing informatics, clinical process improvement, or Chief Medical Information Officer (CMIO).
Transitioning to HIT from and IT background can be more challenging but just as successful. Additional training, education, or certifications with focus on medical coding, clinical decisions, ICD-10, or clinical quality measures can make the transition easier. Your information technology background gives you the ability to move to system engineers, networks, and information exchange careers for hospitals or health insurance payers.
The number of openings for qualified HIT professionals far exceeds supply. A recent survey by Wanted Analytics showed that EHR training was the most sought-after skill in the healthcare market. In addition, a survey by the College of Healthcare Information Management Executives (CHIME) found that two-thirds of member chief information officers (CIOs) who responded were experiencing HIT staffing shortages.
Solutions, Tools, and Products

Find recruiters, job boards for career development and transitions.
4Med Professional Training and Certifications - 4Medapproved developed comprehensive education for individuals, groups and vendors. The training and education program combines self-paced online lessons, multimedia content, certification exams and hands-on practical experience with access to a real-world certified EMR solution.
Resources

Meaningful Use

HITECHAnswers and 4Medapproved partner to bring you the latest information and guidelines regarding HITECH and Meaningful Use!
Learn More.
HIPAA Consulting Services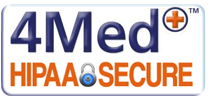 To learn more about 4Med+ HIPAA Consulting Services, click here.
Professional Training Courses

Fore more information about 4Medapproved training courses, including HIPAA training, click here.
Last Updated: March 20, 2013