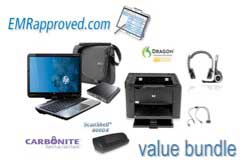 Course Content
Critical Decisions in Hardware for EHR/EMR
Understanding Minimum Vendor Specifications
Security/Networking Considerations and Products
Companion Products and Guidance
Tools/Programs for Hardware Selection and Purchase
Using the 4Medapproved Storesite and Support Line
Financing/Leasing and Tax Incentives
Technology Implementation Plan
Ongoing Maintenance and Support
Sample Orders, Contracts and Case Studies
Once the EMR or medical office software selection is made - the HIT Specialist will need to assess the site, check the vendor specifications and requirements and identify hardware upgrades, replacements and new purchases to prepare for the implementation. Correct IT infrastructure can seriously affect the success of a transition or launch.
Many practices will have "some" technology in place which requires evaluation. The IT Assessment will play an important role in identifying trouble spots requiring upgrade or replacement. The vendor specifications will help guide the recommendation of new hardware, companion products and medical devices.
4Medapproved.com provides advisors with the tools and resources needed to guide client practices to the best technology selections. The store site maintains a comprehensive matrix of minimum vendor specifications and lists only products meeting certified alternative requirements. Most major brand names are available, giving the consultant flexibility to choose hardware that is familiar and a best fit for every site.
Value-added services for hardware such as: financing and leasing assistance, staff training, ongoing maintenance service and support can help differentiate and identify your HIT group as "complete practice resource".
Learning to use the 4Medapproved site resources and hardware sales team - gives consultants confidence to deliver truly professional products and services.