5 Smart Steps to achieving proprietary training in the EMR Market
A stealth guide to better education
One of the most common complaints among independent HIT consultants is the proprietary nature of vendor training in the EMR industry. Most of the major certified EMR players have concluded that by hiding their product education behind a steel curtain they can demand high prices and limit access to competition.
A few vendors will argue that they are "protecting their brand" but I must ask - who is more likely to carry on in the best interest of the physician? A 20-something fresh college grad recruited into a vendor training program with little to no industry experience… or a skilled knowledgeable HIT consultant hired by the physician to provide professional level service? Hmmm.
Oh sure, a few of the big vendors will train you if you sign on as a reseller for them (with steep minimums and guaranteed contracts). But then you are generally forbidden to deliver ANY alternative products even when theirs does not meet the needs of a particular practice or specialty. Leaving you with a pile of licenses to sell and restricting your lot to those who fit that product demographic.
THE PUZZLE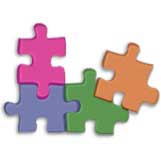 The curious piece to this puzzle is that most of these vendors are working with extensive delays for go-live due to limited staffing. So why NOT tap into a skilled community and provide them with training to help create quicker overall timelines and higher client satisfaction? Particularly if that resource pool is willing to PAY for the privilege. I have no answer to this question. The whole stance simply baffles me.
As the owner of an independent HIT firm, my clients come from all corners of the market for which no single EMR solution will suffice. Thus, I could not justify a singular relationship with any one vendor. However to assist these physicians and sites to the best of our ability; I wanted my project managers and technicians to have a solid understanding of some of the major EMR products in order to be able to provide a high level of ongoing service and support.
THE SECRET
How did we accomplish this? The big reveal? Ladies and gentlemen, drum roll please…

Frankly, we cheated.
I am now willing to go on record with fellow professionals because I believe the proprietary training and support situation is creating a vacuum for Docs. They are suffering for the short sightedness of the vendor groups and I believe independent consultants can provide the solution.
So your next question is… how did we do it? Well, we got desperate, we got creative and then we got certified. It required some stealth work but it was definitely worth it.
Don't get me wrong, this is not an easy path. It can cost money; it will take time and requires strong relationship building. In the long run, it is probably more difficult than becoming a reseller. But it will permit you to stay independent. It will allow you to keep your options open. It will open more doors and allow more flexibility in your consulting portfolio. It will also allow you to help your client practices at a higher level. At some point it may even help you land a terrific HIT job!
For those of you who have hit a wall - here are a few creative steps to access proprietary vendor based training:
THE STEPS
Step 1: CHOOSE
Identify the major products in which you wish to attain certification or skills
Find out which products have the best market saturation in your service area.
Contact area hospitals and physician liaisons. Find out which EMR solutions they have implemented or are planning to rollout to affiliated practices.
Speak to physicians in your local service area. Find out which products they are using and why. Make a short list of major vendors. Select one or two major products (generally no more than two will grab up the bulk of any service area). Plan to seek out opportunities for these primary selected EMR products.
Step 2: BUILD
Create relationships with area facilities and potential clients
Become the area expert on EMR. Get up to speed on important and relevant topics such as HITECH, Meaningful Use, EMR adoption, etc. Offer to provide talks to area groups free of charge; create a calendar and reach out to sites hosting or considering your selected products.
Make contacts, create relationships, begin to talk to interested groups and identify potential targets for your stealth training. Outreach directly to those who express interest in the EMR products on your list.
Step 3: GROW
Offer to help with training for free
The first time you provide consulting services for a facility or practice on path to implement one of your selected solutions… offer to assist them with their training step for FREE. Explain that by attending their vendor trainings and by holding their hands through the process, you will be able to assist them at a higher level "after the vendor disappears". And they will.
Most practices are concerned about the post-go-live and will welcome your offer to participate to help soften the blow when those trainers depart. Attending their paid training means you are learning for free. An excellent trade-off; some of your valuable time for their valuable training. And the best part is… you really are HELPING the practice! The primary goal of any good consultant. This builds your reputation as a committed counselor. A win win.
Step 4: CERTIFY
Create an agent relationship agreement – attend higher level trainings, legally!
If the site or practice is willing to have you participate in their vendor trainings onsite, take it a step further. Many of the major vendors permit and encourage clients to send a "Super-User" from their practice for additional training and certifications. Offer to attend those trainings as an "agent or representative" of that site or practice. This may involve registering for lengthy courses out of state, so be prepared to commit time and resources.
One way to convince the practice is to say that you will take your personal time to attend that higher level training FOR them. You will then bring that training back to the wider group. Using your newly acquired skills – you will be able to train all members of their staff at once. Saving them precious time and travel dollars.
Let the site also know that this will allow you to provide them with ongoing LOCAL service and support. A value-add to them on many levels.
A simple "agent agreement" stating that you will act as a temporary staff member of the practice in their stead makes this little back door method a legitimate legal path for you to attend on their behalf.* (see notes below regarding access to agent agreements)
You will only need to do this once for free. From here forward, you will be a trained or certified Super-User" and you will be able to charge for post-implementation support to area practices.
Believe me, they will welcome you. At this point it is always difficult AND expensive to attain added onsite vendor training or service from the major players. Offering a local and reasonably priced alternative will be well received. Think of it as investing in a lucrative degree!
Hospitals may need your help too
Establish a relationship with your area hospital and try to get a meeting with the rollout team. Whether they are in process or post go-live with their practices, let them know you are willing to bolster their often overworked internal IT staff by accessing training through them and providing contract assistance to affiliated groups as needed.
This is often appealing to smaller hospitals as they have lighter internal IT staffs and can always use backup when the rollout docs are banging at the door. A simple agent agreement can work with a hospital or clinic facility as well.
Step 5: SHARE
Partner with other local professionals-share your skills and expand your reach!
If you represent a small IT group or are seeking contracts as a solo consultant, create strategic partnerships with other area professionals. Build a network to share knowledge and skillsets. Others may have learned from practice relationships as well and you can share that information to build a wider knowledge base.
If we band together with the goal of HELPING the physician practices (as opposed to just selling to them) – we can work to fix this broken system.
As the move to electronic records grows exponentially within the coming years, the medical community will be desperately seeking skilled support. Local talent to supplement whatever minimum help is provided by the vendors themselves. Vendors will very likely be looking for relief from the crush of new users they are lining up with licenses today. Healthcare employers will be desperate for trained EMR specialists.
Is it cheating… yes, a little bit; but the system is broken. We, as advocates of the physicians are simply working within the loopholes of that system to accomplish better overall service delivery.
*For sample agent agreements and other helpful independent HIT education, templates and tools – attend HIT University presented by 4Medapproved.com. Click here for healthcare IT certification program details.