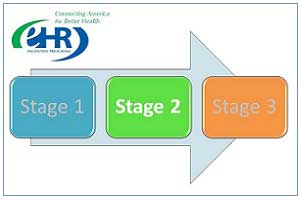 The CMS Medicare and Medicaid EHR Incentive Programs provide a financial incentive for eligible participants that become "meaningful users" of certified EHR technology. By implementing certified EHRs providers can benefit beyond the financial incentives. In using an EHR the system can help in reduction of errors, availability of records and data, reminders and alerts, clinical decision support, and e-prescribing/refill automation.
The CMS Medicare and Medicaid Incentive Programs are being administered in three stages.
Stage 1 sets the basic functionalities for EHRs. The requirements are focused on providers capturing patient data and sharing that data either with the patient or with other healthcare professionals.
Stage 2 will begin in 2014, using advanced clinical processes. The requirements are focused on health information exchange between providers and will promote patient engagement by giving patients secure online access to their health information.
Stage 3 final rules are not established yet but will continue to expand meaningful use objectives to improve health care outcomes.
Eligibility for Professionals
Medicare Eligible professionals:
Doctor of medicine or osteopathy
Doctor of dental surgery or dental medicine
Doctor of podiatry
Doctor of optometry
Chiropractor
Medicaid Eligible professionals:
Physicians (primarily doctors of medicine and doctors of osteopathy)
Nurse practitioner
Certified nurse-midwife
Dentist
Physician assistant who furnishes services in a Federally Qualified Health Center or Rural Health Clinic that is led by a physician assistant.
Medicaid EPs must meet one of the following criteria:
Have a minimum 30% Medicaid patient volume
Have a minimum 20% Medicaid patient volume, and is a pediatrician
Practice predominantly in a Federally Qualified Health Center or Rural Health Center and have a minimum 30% patient volume attributable to needy individuals
My EHR Participation Timeline
Use this web-based interactive tool to determine your participation timeline for each stage of Meaningful Use.
Registration and Attestation
To register:
Have an approved enrollment record in the Provider Enrollment, Chain and Ownership System (PECOS).
Medicaid eligible professionals are not required to be enrolled in PECOS.
If you do not have a record in PECOS, you should still register for the Medicare and Medicaid EHR Incentive Programs.
Registration status will remain in an "issue pending" status until you have an active enrollment record in PECOS.
Have a National Provider Identifier (NPI)
Have a National Plan and Provider Enumeration System Identity and Access Management ID and password for the individual provider
If you are reassigning your benefits
A Payee Tax Identification Number
A Payee NPI
CMS Resources
Stage 1 EP Objectives
A Medicare EP must meet all of the Core Set of Objectives to successfully attest to meaningful use. Six meaningful use core objectives have exclusions that can be taken as meeting the objective. EPs must also meet all but 5 of Menu Set Objectives, deferring the selected 5 for later stages. Of the objectives being used, you must include one public health objective either #9 or #10. Eight of the ten objectives have exclusions that can be taken to meet the objective.
For detail on all the objectives download the Eligible Professional Meaningful Use Table of Contents Core and Menu Set Objectives for Stage 1.
CMS has recently updated their Tipsheet on Changes to Stage 1 Meaningful Use Objectives, Measures, and Exclusions. For details see the tipsheet. Here is the outline of changes for stage 1 in 2013:
Required for all providers in 2013
Clarification on testing of public health reporting objectives
Removed for all providers in 2013
Removal of the electronic exchange of key clinical information objective
Optional for all providers in 2013
Alternative measure for Computerized Physician Order Entry (CPOE)
Age increase for recording and charting vital signs
Optional for Eligible Professionals in 2013
Additional exclusion for Electronic Prescribing
New exclusion for recording and charting vital signs
Last Updated: June 24, 2013

Meaningful Use

HITECHAnswers and 4Medapproved partner to bring you the latest information and guidelines regarding HITECH and Meaningful Use!
Learn More.
HIPAA Consulting Services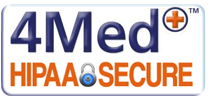 To learn more about 4Med+ HIPAA Consulting Services, click here.
Professional Training Courses

Fore more information about 4Medapproved training courses, including HIPAA training, click here.