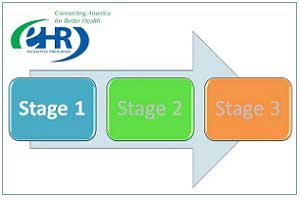 On August 23, 2012 both CMS and ONC released Final Rules for Stage 2 Meaningful Use and Standards and Certification Criteria. On September 4, 2012 the rules were published in the Federal Register.
The CMS Rule
The rule contains:
The changes to Stage 1 of meaningful use to take place in 2013.
Achieving Stage 2 meaningful use of certified technology.
New clinical quality measures now in addition to the objectives.
New clinical quality measure reporting mechanisms.
Payment adjustments for non-compliance and hardship exemptions.
Changes to the Medicaid program.
Eligibility Changes
Since eligibility is mandated by the HITECH Act, the Stage 2 Final Rule has resulted in no changes to who qualifies for the incentive program since it has no effect on the eligibility rules. However, there is one change to the definition of a "Hospital-Based EP".
Hospital-Based EPs may qualify to receive incentive: EPs demonstrating that they fund the acquisition, implementation, maintenance, hardware and interfaces of certified EHR technology (CEHRT) needed to meet Meaningful Use without reimbursement from the hospital are eligible to apply for a "Non-Hospital-Based" status and potentially receive incentive payment.
Meaningful Use Changes
The number of core objectives has increased for both EPs and eligible hospitals while the number of menu objectives has decreased. Many of the menu objectives in Stage 1 were related to patient engagement and have now been moved to the core objectives for Stage 2 in an effort to focus more on clinical processes.
Exclusions: Starting in 2014, exclusions claimed for menu objectives will not count toward the required number of menu objectives for attestation. If exclusions are claimed then another menu objective must be selected that can be met.
Reporting Period for 2014: To allow time for participants to adopt the certified EHR technology as (which ALL incentive programs will require for 2014), ALL participants will report on a three-month time period in 2014.
Batch Reporting: Starting in 2014, groups will be allowed to attest for all of their EPs with just one file upload into the Attestation System without the need for enter data for each individual EP.
CQM Reporting: Starting in 2014, Clinical Quality Measurements will no longer be a core objective; however, ALL providers are required to report on CQMs in order to demonstrate meaningful use. Additionally, Medicare-eligible providers in their second year and every year thereafter of demonstrating meaningful use must electronically report their CQM data to CMS. The number of CQMs that are required for reporting will also increase for 2014.
CMS Resources
The 2014 Edition S&CC Final Rule
The rule contains:
Redefines the meaning of Certified EHR Technology as well as introduces more efficient means for certification to permit greater innovation and reduce regulatory burden;
Adopts vocabulary, content exchange, transport, functional, and security standards in certification criteria;
Adopts certification criteria for transitions of care that will ensure EHR technology supports standards-based electronic health information exchange;
Requires that test reports used for EHR technology certification be made publicly available and that EHR technology developers follow certain price transparency practices related to the types of costs (i.e., one-time, ongoing, or both) associated with EHR technology implementation for meaningful use; and
Makes available for the first time, "gap certification" for certain certification criteria, which will enable more efficient EHR technology certification.
ONC Resources
Last Updated: June 24, 2013

Meaningful Use

HITECHAnswers and 4Medapproved partner to bring you the latest information and guidelines regarding HITECH and Meaningful Use!
Learn More.
HIPAA Consulting Services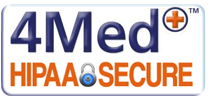 To learn more about 4Med+ HIPAA Consulting Services, click here.
Professional Training Courses

Fore more information about 4Medapproved training courses, including HIPAA training, click here.