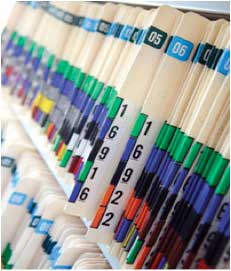 The HITECH Act, part of the American Recovery and Reinvestment Act of 2009, requires all healthcare providers eventually adopt electronic health records and make the move away from a paper office.
Making the move can be a daunting task, but with the sophistication of many EMRs and modern technology the switch will lower costs and hours wasted searching through paper documents for patients records and alleviate human oversight and error.
ISSUES: The current use of fax machines, fax prescriptions, referrals and the collection of signatures for contracts and patient information release forms can make it difficult to imagine how to convert to a paperless office. That in addition to the mounds of paper already accumulated and assembled on a patient's behalf in their record poses a number of challenges when considering this necessary conversion.
CONSIDERATIONS:There are an abundant number of EMRs that have integrated the faxing system into the Electronic Medical Record program itself, eliminating the need to print the physical copy of what is currently received via fax.
Many affordable alternatives are also now available for collecting signatures via electronic signature pads, further eliminating the need to print a consent form as the patient signature is scanned directly into the record.
As for the existing paper records, the sooner a physician implements an EMR, the less paper there is to convert to digital format. New patient data will be easiest to migrate (with limited information). However legacy (established) patients have much more paper to consider.
SOLUTIONS: Implementing a paperless system can be done in a variety of ways depending upon the needs of the healthcare providers.
High-Speed Scanning:
If scanning every document feels mandatory for a practice - they may contract a third party scanning solutions firm, assign office staff or hire a temporary worker to assist with the transition.

NOTE: while a third party or temp may be able to do all of the physical scanning, organizing and verifying; assigning the documents to the correct patient record will still require office staff to manage and facilitate.

Companion service companies in the business of high-speed scanning and record conversion can facilitate a complete move to electronic patient records in an efficient fashion. Large, high-speed multi-capable scanners and skilled workers are brought into a practice (or records are delivered offsite). A deadline is set and records are scanned per patient into tagged PDF files which may be attached to new EMR style records in the practice system.

The cost may be a factor for some practices in executing their data migration in this way. Minimum large batch scanning projects can baseline at around $5000 and can add-up quickly depending upon the number of records involved. However, it is important to remember that valuable office-space can be recaptured and used for additional exam rooms or other monetarily beneficial purposes. Other returns on this investment may be realized as well. Use our EMR ROI tool to help determine cost savings as you move from paper to electronic.

Pre-Scheduled Scanning:
If converting patient records to digital format all at once is too costly, a more common approach is to assign staff to pull all paper records for the next scheduled week of appointments and import only those patient's documents at that time. This means that as you see and schedule patient's, you import just prior to their visit and then move those paper records to alternate storage areas.

This accomplishes a slower transition, but is much less time consuming on the front-end and significantly less expensive. Savings in recaptured space is delayed, however access to paper backups while staff is familiarizing themselves with the new system can also be a helpful.
IMPORTANT TECHNOLOGY TOOLS:
Regardless of the method selected above, an efficient in-house document scanner is a necessary tool for all practices moving from paper to electronic record keeping. Both for importing legacy data and to provide a tool for moving other paper based documentation into the new record system.
WORKGROUP SCANNERS: Several brand names and products exist for the purpose of general office scanning, however most EMR vendors require that your scanner be TWAIN compliant (a language for data import to systems) and suggest that they also allow DUPLEX scanning (scanning of both sides of the documents at once).

SIGNATURE PADS or Digital Pens: As mentioned before, signatures of patients or physicians for legal purposes can be captured using an electronic signature pad. These pads can be attached to laptops or desktops via USB cable. New digital pens have also been developed to capture signatures directly onto forms and in records. Some via attached connection and some wirelessly.

MEDICAL ID SCANNERS: Many EMR software programs will import demographic information into the medical record directly from a Driver License or State ID Card. In addition, certain software will incorporate Insurance Card information via card scans as well, reducing the amount of data input required by the front desk staff.
One way to be sure your scanners and pads are guaranteed compliant is to ask your vendor for a suggested model or to select from a site such as 4Medapproved.com, where all products are guaranteed EMR compatible.
Regardless of your method of scanning or planning to move from paper to electronic, it is always best to engage the services or recommendation of a healthcare IT consultant. Utilize the 4Medapproved products, services and directories guides or contact our EMR guidance team to help you find the best solutions for each step of the EMR transition process.
Last updated: August 2, 2012