The Office of the National Coordinator for Health Information Technology (ONC) awarded $116 million in funding for Health IT Workforce Development Program. The program's goal was to train the new workforce with Health IT skills that will fill the jobs that would be needed to implement electronic health records and achieve meaningful use. The program has four initiatives.
1. Community College Consortia to educate Health Information Technology Professionals. Includes five regional groups of 82 member community colleges representing all 50 states. Programs are designed for health IT training programs that can be completed in six months or less.
2. Program of Assistance for University-Based Training. The program was designed to rapidly and sustainably increase the availability of individuals qualified to serve in specific health IT professional roles requiring university-level training.
3. Curriculum Development Centers. $10 million in federal funds awarded to five domestic institutions of higher education to develop curriculum and instructional materials to enhance workforce training programs primarily at the community college level.
4. Competency Examination Program. Development of a series of competency exams.
Solutions, Tools, and Products
4Med Professional HIT Training and Certification - 4Medapproved developed comprehensive education for individuals, groups and vendors. The training and education program combines self-paced online lessons, multimedia content, certification exams and hands-on practical experience with access to a real-world certified EMR solution. Continuing Education Credits (CEU) and college credit available.
Resources

Meaningful Use

HITECHAnswers and 4Medapproved partner to bring you the latest information and guidelines regarding HITECH and Meaningful Use!
Learn More.
HIPAA Consulting Services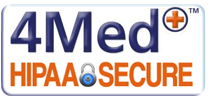 To learn more about 4Med+ HIPAA Consulting Services, click here.
Professional Training Courses

Fore more information about 4Medapproved training courses, including HIPAA training, click here.
Last Updated: April 2, 2013