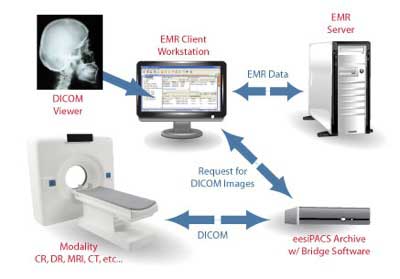 As healthcare facilities continue to move from paper to digital solutions, there is an ever- increasing need for seamless integration between EHRs and imaging centers, radiology departments, and laboratories. The process for retrieving this information has previously required paper requisitions and manual entry into a patient's chart. Old EHRs or legacy systems were unable to automatically populate this essential information. But the modern EHR landscape has been enhanced with the introduction of bidirectional HL7 interfaces with laboratories and PACS/EHR integration. These improvements help reduce human error and increase office efficiency, saving valuable time and allowing doctors, nurses, and office staff to focus on other tasks.
PACS (Picture Archiving Communication Systems)
PACS refers to electronic images and reports that are stored and archived in a format that can be transmitted digitally and easily retrieved for interpretation. This eliminates the need to manually file and retrieve film studies that are generated in an imaging/Radiology facility. The purpose is to eliminate the use of film and its associated costs, while using digital technology to view and retrieve imaging studies stored and archived digitally, rather than physically. Digital storage results in a significant cost reduction, while increasing available space in the facility, and improving overall efficiency (both technical and professional) in the imaging center setting.
PACS image storage and transfer is contained in a universal format known as DICOM (Digital Imaging and Communications in Medicine) and is typically stored on a server.
PACS system is comprised of 4 main components:
The actual images (i.e. CT, PET, Mammogram, Ultrasound, etc.)
A secure network to transmit the information
Workstations to review images
Archive records for retrieval and storage of reports and images
As sophisticated PACS systems have emerged in the healthcare environment, they have remained separate from EHRs. In other words, a patient's medical images that are stored on a PACS system have no link to their medical record. The integration of diagnostic images into the medical record is a significant component of the documentation necessary in the clinical decision-making process. Advances in integration technology have allowed the flexibility to bridge this gap, with improved interface implementation. Users are now able to use a standard web browser to access medical imaging studies within the patient's comprehensive medical records/chart.
Adopting an EHR streamlines the ability to access, save, and share lab results through the use of an HL7 interface between the laboratory and the EHR. This type of interface is considered to be bi- directional. The information can pass from the lab to the EHR and vice versa. Ordering a lab study can be conveniently accomplished electronically from the point of care while the patient is still in the doctor's office. Once the lab study is completed, information can be sent directly back to the patient's chart. With HIPAA compliant security measures, electronic transfer of hospital results, lab results, and radiology reports is almost instantaneous. Results from patient tests are automatically populated and integrated into the patient record. These integrations increase the efficiency of the day-to-day operations of any office.
Aside from simply saving time by eliminating manual entry into a patient's chart, having an integrated system allows medical professionals to better explain and present medical data to their patients at the point of care. Integrating medical devices and departments with an EHR make it easy to correlate a patient's relevant data. With more "structured data," information entered into a patient's file can be implemented into computer-generated graphs in order to display patient progress. Additionally, this technology can be used to set up alerts and reminders for follow-up care, and can be used as a resource to aid in chronic disease management. This gives patients a visual understanding of their labs and progress while in treatment, improving patient knowledge and involvement.
Cost: Other than the price of software and implementation, there is no charge per order sent/received.
Accuracy: The information is documented electronically at the source and reduces human error.
Security: HIPPA complaint, fail proof matching techniques of patient and physician information eliminate the possibility of adding the information to the wrong patients chart.
Efficiency: results are submitted electronically and automatically entered into the patient's chart, even while the physician's office may be closed.
Utility: graphs and educational material can be easily collected and displayed for the patient, while simultaneously tracking patient progress.
Meaningful Use

HITECHAnswers and 4Medapproved partner to bring you the latest information and guidelines regarding HITECH and Meaningful Use!
Learn More.
HIPAA Consulting Services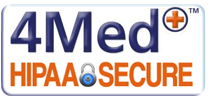 To learn more about 4Med+ HIPAA Consulting Services, click here.
Professional Training Courses

Fore more information about 4Medapproved training courses, including HIPAA training, click here.
Last updated: April 2, 2013