Patient Outreach: Understanding PHR (Personal Health Records) and Patient Portals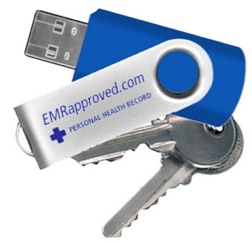 In order to stay competitive in today's fast-evolving healthcare marketplace, more and more practices are beginning to incorporate electronic patient outreach into their daily workflow. Integration with PHR (Personal Health Record) software and / or Patient Portal systems is increasingly essential for patient satisfaction in the business of medicine.
Patient Health Records: A Growing Trend
The Personal Health Record (PHR) is a health record generally maintained by the patients themselves. Google Health and Microsoft's HealthVault are two of the more popular online versions though hundreds are popping in a variety of formats including portable APPS for iPhones and iPads as well as downloadable versions for quick transfer to carry devices. Many offer advanced features which permit importing existing patient data from external sources, such as pharmacy records or EMRs.
Practices are reporting positive results after integrating with an external PHR system (See this article for some thoughts on PHR and Patient portal integration from those who've done it: Patient Web Portals Offer Meaningful Use Benefits for Practices).
Because the health information captured in the PHR is owned and maintained by the patient themselves, they can take it with them to any doctor – regardless of the presence or absence of an EMR system. USB flash drive is a common way to carry this data– some even carry theirs with them at all times on a keychain or necklace in case of emergency.
Even if the patient is not physically carrying this information around with them, a quick login via any web browser reaches most services. APP driven options allow you to carry all of this information on your phone, iPad or other PDA.
By simply maintaining a PHR, patients are likely to be more cognizant of their medical status and personal wellbeing. With easy access to medication and medical history, accurate information contributes to better, more efficient patient care.
While PHRs are a great way for patients to keep track of their own data, patient portals are fast becoming the most popular form of integrated patient/provider communication. Patient Portals are web-based applications that allow patients to interact and communicate directly with their healthcare providers.
The patient portal is an electronic gateway to important scheduling, clinical, and billing data. This "patient gateway" or portal comes in the form of an interactive web interface, allowing anyone with web access to quickly communicate with their provider or access health-related data.
Patients can log into their practice's portal web page with a secure username and password, provided by the practice, to take advantage of selected features provided by that practice. Common features include:
Checking appointment schedules
Requesting/scheduling an appointment
Checking lab results
Examining statements
Requesting a prescription refill
Completing new patient intake forms (insurance/demographics)
Patient education on specific diseases, preventative guidelins or drug recall information
Direct messaging from providers, including appointment reminders
The features are flexible and can be customized to each individual practice. Some providers may like the idea of patients being able to schedule their own appointments during a pre-approved block of time, while others may find that scheduling is still best left to the front office (because of flexing physician schedules, patients scheduling while in the office, etc). Allowing patients to simply request a certain appointment time is a common compromise for this problem.
Momentum for patient portal usage is growing and demand is increasing for this access to information via technology. Patients enjoy the convenience that 24-hour access to medical data can provide. Many portals offer bilingual versions as well.
Portals are clearly a convenience for patients, but are quite useful for the practice as well.
A well designed portal will increase practice efficiency and productivity and, when used in conjunction with patient kiosks (see kiosk lesson here) can greatly reduce the amount of paperwork required on-site.
Making the transition less cumbersome, most portal systems permit patients to adopt at a personal rate. Meaning, some tech-phobic patients may continue to use manual methods while tech savvy patients may adopt and utilize these tools quickly. Thus, all patients are offered the method which works best for them, thereby, promoting more universal user satisfaction - a clear differentiator in patient retention.
Providers can send messages to one or many patients, offering appointment reminders, electronic statements, lab results, etc. Portals are a great place for housing educational content as well – content such as drug facts, interactions, or recent FDA warnings can be automatically displayed to the applicable patient – increasing knowledge and emotional well-being of the patient. Common benefits for the practice include:
The ability to access vital information from anywhere at any time
Sharing of information with referring providers securely over the internet
Streamlined workflow and improved communication with patients
Reduced redundant data entry - allowing patients to update their own demographics, insurance information and medical history
A unique web presence in the healthcare marketplace
Another advantage is that the patient portal is highly customizable: the practice is the ultimate authority regarding how much or how little data is conveyed to the patient and how that data is displayed. The patient, of course, does not have access to the doctor's records, and can only see what the practice or individual physician permits. Requested data can be entered using online forms that look just like the practice's traditional paper forms or new simpler interactive forms may be created.
Many services will also allow the practice to brand their patient portal – utilizing the practice's graphics, logos, and workflow. This type of branded web presence is an excellent marketing tool. The portal can become like the practice's "store front" to a potential or current patient. Having this familiar "store front" will help with patient retention and help to drive in new patients who are looking for the increased level of data availability and doctor communication that a well-designed portal can provide.
Most patient portal systems are HIPAA compliant. This ensures that the data transmitted across the web is encrypted with current state-of-the-art encryption techniques, such as SSL or access control patterns.
All portals will require that a username and password be created for each patient who wishes to log into the system, and this is something that is best managed by a designated practice staff member, or "super-user".
Some EMRs provide an internal, integrated patient portal. This may be included in the initial cost or may be offered as a "module" available for a monthly subscription fee. In the absence of an EMR option, independent portals are also available on the open market and can be integrated with existing websites or operate as standalone communication tools.
Improving communication, creating accessibility to data, providing easy transfer of medical information and offering patients helpful tools for personal health management will create enhanced physician/patient relations. This in turn, allows the practice to provide better overall patient care.
SELECT A PHR
Further Reading
Last updated: April 1, 2012