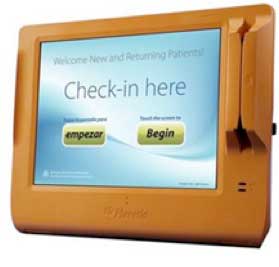 Introduction
There are several patient companion products and utilities available to integrate with most EMR solutions. One popular tool that enhances the efficiency of the electronic practice is the patient kiosk, sometimes referred to as the patient check- in system.
In most practice environments, patients are required to fill out forms before a scheduled appointment with the practitioner. In addition, insurance must be verified at each visit to establish account charges and co-payments. With the use of integrated patient kiosks and check-in tools, this process can be streamlined.
What is a patient kiosk?
Patient kiosks are interactive computer workstations or tablets designed for self-service tasks, such as appointment check-in, completion of mandatory forms and collection of co-payments. There are many different brands and styles of kiosk available offering a variety of functions – but the main goal of each of these tools is to improve practice efficiency, resulting in increased staff and patient satisfaction.
There is an abundance of preliminary information that can be imported into a patient's medical record via a kiosk tool - such as demographic information, family and social history, medical history and preliminary symptoms. Many kiosks also offer the option to check and verify insurance eligibility in real-time. Others are able to collect credit card payments toward their balance or copayments utilizing a direct link to the payment clearinghouses. This increases productivity for office staff by decreasing or eliminating tedious steps inherent in those administrative tasks.
Kiosks are available in a wide variety of formats – there are larger wall-mount or freestanding models (similar to bank ATM or airport check-in kiosks), and more portable solutions; such as countertop stations or tablet-PC style mobile devices. Newer software based kiosk in the APP format are now also becoming available and are accessible from any portable internet-ready unit.
Many of the larger "chain" clinics have already adopted these technologies – you've probably seen them in use at places like Walmart, CVS and Walgreens. But more traditional healthcare environments are beginning to see the benefits as well – from large hospital systems to small practices, there are many models and price points available for all practice types.
Costs/Benefits of a kiosk system
Of course it is up to the individual practice to determine if the benefits outweigh the financial investment – which generally involves either a pay-per-capture charge or monthly subscription fee. Be sure to consult the various kiosk providers to determine what type of investment is right for your practice. Often times the use of a kiosk system can help increase payment capture and reduce errors in insurance information gathering – but the benefit of simply increasing patient satisfaction is enough incentive for many practices to buy in.
Planning for a kiosk system
Perhaps one of the most appealing qualities of a kiosk system is the high rate of successful adoption. Compared to other healthcare technologies, patient kiosks are relatively simple to implement, don't require a large monetary investment and can be deployed only to those departments which are most likely to benefit from kiosk use. A clear deployment plan will help the system achieve data integration, patient satisfaction and payment capture goals more quickly and successfully.
As presented in the California Healthcare Foundation's article "Touchscreen Check-In: Kiosks Speed Hospital Registration", this inpatient guide to a well-planned implementation is similarly applicable to an ambulatory practice:
System Selection
Choose a kiosk with the physical location in mind
Consider purchasing more than one kiosk per area/department
Freestanding kiosks offer an important opportunity for branding
Deployment
Start with areas that have high numbers of repeat patients
Start with check-in and payments, then add functions as desired
Use a greeter during the initial rollout
Place the kiosks in an obvious location
Enable as many languages as you reasonably expect to use
Policies and Procedures
Make use of the patient kiosk voluntary
Assign basic oversight responsibilities for each kiosk
To read the complete article, click here.
What the healthcare community is saying about kiosks:
As mentioned above, kiosk adoption is a relatively uncomplicated tool for improving the efficiency of a practice, especially as it relates to check-in and other front office tasks. There are numerous case studies which indicate that kiosks can speed up the check-in process by 50% or more, while also reducing the amount of copying, scanning, and faxing for a front office staff. Take a look at the following study for more information regarding what current kiosk users are reporting: Patient Kiosks Deliver Benefits to Imaging Centers
For those practices wanting to take advantage of more than just form and check-in capability, most are reporting positive reviews of the kiosk's insurance and payment capture components. Many even permit patients to simply swipe their insurance card for automatic upload of the insurance detail to the system.
Integration with your EMR
Many kiosk products are designed to directly interact with existing EMR solutions, so that the information gathered from the kiosk is seamlessly and automatically integrated into the EMR database. Doctors can instantly access the information entered by the patient in the waiting room as it is linked via a data interface. Even for EMR systems that do not currently link directly with these kiosks, there are several data conversion groups with the ability to custom create a link between the data captured and the electronic record. Be sure to contact your EMR and/or Kiosk vendor for details regarding specific interactivity of the systems in question.
Last updated: August 2, 2012