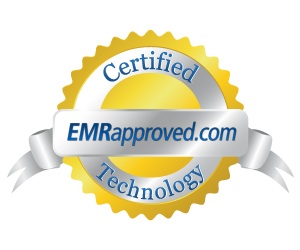 4Medapproved Custom EHR/EMR Server
Selection and Implementation

If your selected EHR/EMR/PM system requires either a local or virtual server/hosting solution – 4Medapproved Certified Technical Consultants can help. We work WITH your EMR vendor to select, configure and install only the most efficient Tower, Rack and Virtual Server options available on the market.
Our recommended ENERGY STAR qualified servers can save you an average of 30% annually without sacrificing performance. New 4Medapproved Select Servers slim‐form‐factor SAS and SATA hard disk drives use 40% less power and run cooler than older 3.5‐inch drives and new DDR3 memory offers higher performance and an increased bandwidth while at the same time reducing power consumption, lowering power usage.
In addition – in most major service areas – we will also deploy a Healthcare Certified Installation Team to ready your practice with a perfect IT Infrastructure in preparation for your new or improved EMR rollout.
Looking for other guaranteed EMR-compatible products? Click here.

Understanding Servers
SaaS/ASP/Subscription
Becoming more and more popular is the subscription based EMR/PM solution. In this case your software and data are hosted by the EMR/PM vendor. They generally charge a monthly fee per payer provider which encompasses the licensing, maintenance and basic support. You will pay additionally for setup, installation, data conversion, initial training and any additional components (such as patient portal, lab interface, etc).

Advantages of a subscription based solution

Reduced hardware investment; no need for client/server architecture
Reduced administration expenses due to vendor purchase and maintenance of all server functions
Monthly payment per physician that is easy to budget
Monthly payment includes software support & upgrades covering back up and basic administration
Monthly payments are a tax benefit that can be written off as operating expenses


Disadvantages of a subscription solution
The physician never has full control of the software and data stored outside of the practice.
Long term (more than 3 to 5 yrs.) monthly fees can be more expensive than other financing.
A hosted system is generally a bit slower than one hosted locally.
A hosted system is generally a bit slower than one hosted locally.
SaaS/ASP/Virtualization
If you wish to buyout your licenses but not be required to manage a server on your site, you may consider a virtualized server solution. Similar to buying a home while renting the land on which it sits. You will have more control over the data, a fixed licensing cost as opposed to subscription for the license – however instead of managing a server in-house, you will tap into your remote server (situated at a hosting company site) via the web. This process requires some additional steps to create the remote network (best done by a qualified IT consulting group):
Planning

: Evaluate current applications suite and business needs to identify opportunities to implement Virtualization of services.

Enablement

: Migrate your legacy applications and processes to the remote site.

Customization

: Optimize your virtual server to improve user experience and operational efficiency. Add other practice and environment functions to consolidate resources.

Support

: Maintain and enhance the remote server to support organization strategies and practice processes.


Advantages of a virtual server (cloud) solution
Reduced hardware investment; no need for in-house client/server architecture (consolidation options)
Reduced administration expenses due to outside purchase and maintenance of all server functions
Buyout licensing of EMR/PM solutions can save vs. subscription money in the long run
Physician retains greater control of software and data stored on "non-vendor" server


Disadvantages of a virtualization (cloud) solution
A remotely hosted system is generally a bit slower than one hosted locally.
When the Internet is down or line failures occur, workflow will be disrupted with no access to billing or charts.
Long term, costs can be higher paid for remote service than servers maintained locally


Client/Server Hosted Onsite
If you wish to buyout your licenses and have the space and resources to host a server on your site, you may consider a client/server solution. Most EMR/PM solutions implemented in the past 10 years were installed in this fashion. Thus the method is both tested and proven to work efficiently. However, this also means that you are responsible to manage and maintain a local area network and hardware best managed by IT professionals. If you do not have in-house IT support, you can expect to need the assistance of an IT group to implement and maintain this equipment over time.
Advantages of a client/server platform (license buyout) solution
Faster, more efficient access to your data, billing and patient charts
Long term, costs reduce significantly (especially with 3+ practitioner licenses)
Lower risk of downtime due to internet issues
More control over management of the software systems and data
Tax incentives are greater for equipment capital expenses


Disadvantages of a client/server solution
Higher front-end equipment expense
Higher initial installation and network infrastructure expense
Requires planning for maintenance and upgrade of the servers


See a comparison of REMOTE VS. LOCAL HOSTING Over a 5-Year Period for an Average 3-Physician Practice