Sponsoring 4Medapproved.com provides you access to the most complete HIT and EMR marketplace across all sectors of healthcare. Medical Community members visit our site repeatedly to find FREE helpful guides, project tools, education, links and forums.
Through our network of sponsors in the 4MedMarketplace we provide healthcare professionals and organizations with access to software research and comparisons, compatible computer hardware, connectivity and data management, publications, certifications and more.
We offer multiple levels of sponsorship which provide expansive industry exposure and advanced marketing.
We improve sponsor traffic and sales opportunities by cross promoting with interior SEO optimized pages on our primary site attached to rich educational content.
We also expose marketplace products to our professional EHR/HIT consultant channel at 4MedProNetwork.com, allowing sponsors to reach other vendors and the consultant and support communities as well.
Sponsor products and services can be found in the 4MedMarketplace which is hosted on many industry and medical association websites including:


It is also linked to MANY nonprofit sites including:




Meaningful Use

HITECHAnswers and 4Medapproved partner to bring you the latest information and guidelines regarding HITECH and Meaningful Use!
Learn More.
HIPAA Consulting Services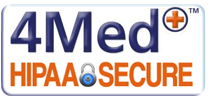 To learn more about 4Med+ HIPAA Consulting Services, click here.
Professional Training Courses

Fore more information about 4Medapproved training courses, including HIPAA training, click here.