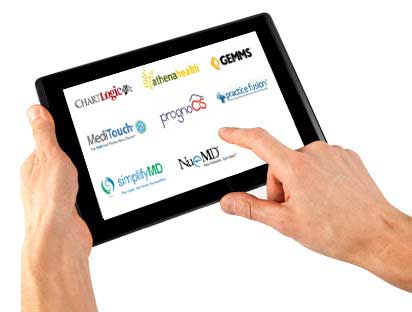 EHR vendors are not all the same and it is important for healthcare professionals considering implementation of certified EHR technology select the best vendor for their needs. Whether your organization has one practitioner or one hundred, choosing an EHR vendor whose product meets your specific practice requirements, will ensure that the transition to an electronic system is more likely to succeed.
Each EHR vendor offers a range of features and differing functionality. Even when all of the systems you are considering are HIPAA-certified and meet the standards for Meaningful Use, their structures are not guaranteed to meet your practice's unique needs. EHR solutions often include optional features related to billing, charts, record-keeping and reporting. Comparing the offerings from a variety of vendors will help your office make a sound investment in an EHR.
Steps to EHR Selection
Building off the HIMSS (Healthcare Information and Management Systems Society, an organization that advocates for better use of healthcare information technology) recommendations, consider these steps when planning to purchase an EHR.
1. Define your practice's needs by making a list of the top 20 functions that you need your EHR to be able to perform. Think carefully about how you'd like to improve your office and list all the features you think you'll want. The software you choose should best support your specific practice workflow. Most of the top EHR vendors combine EHR software with Practice Management software. Because they come from the same vendor, they are well integrated with each other.
2. Rank your required features by importance. Turn the list into a scorecard with a number-based scoring system (like 1-5) to rate how necessary the feature is to your office. Leave extra columns on your scorecard to make notes about the different vendors and products you encounter, which will help you keep track of which vendors offer a better product for that feature.
3. List out your potential vendors. After you've eliminated companies whose product isn't certified or who don't fit your practice's basic needs, go over your scorecard and make a list of all potential vendors you might be interested in. You can find potential vendors in online directories or through EHR consulting resources.
4. Do your research and seek reviews online. Another helpful consideration when selecting a vendor is to seek out reviews online from EHR software users in similar practices and organizational structures. These reviews are helpful in determining the level of success other healthcare providers have experienced using the system and can also expose any major flaws or glitches within the software. Also whenever possible, reach out directly to similar specialty practices with EHR in place - to ask if their experience to date has been positive. The number of live implementations reported by the vendor can also be important. The software should be modifiable to adapt to specific healthcare focuses. s how often the EHR software is updated and patched for potential errors.
5. Consider an independent HIT consultant. Independent HIT Consultants (without specific reseller relationship to any one vendor) can evaluate and consider the best options with you. The benefit of this relationship is that the same consultant can often manage the entire project for you - including the acquisition of correct hardware, analysis of workflow, review of systems and provide implementation oversight. They are often also the best resource for post-implementation support.
Solutions Tools and Products

Review, compare, and select EHR Software Solutions.
Resources
Related Terms and Acronyms
EHR – Electronic Health Record
EHR Vendor – a company the sells hospital and practice system applications that have been certified for meaningful use attestation.
HIPAA - Health Insurance Portability and Accountability Act

Meaningful Use

HITECHAnswers and 4Medapproved partner to bring you the latest information and guidelines regarding HITECH and Meaningful Use!
Learn More.
HIPAA Consulting Services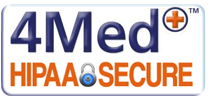 To learn more about 4Med+ HIPAA Consulting Services, click here.
Professional Training Courses

Fore more information about 4Medapproved training courses, including HIPAA training, click here.
Last Updated: March 14, 2013