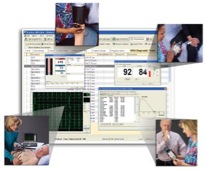 WHERE, WHEN and WHY TO BEGIN
There are compelling reasons to consider moving from paper medical records or upgrading an electronic system to a full-fledged EHR. Most importantly, a successful EHR can bring to you and your practice - improvements in the quality of patient care, productivity, and revenue.
Improved Patient Care
Overall improved chart quality
Reduced medical errors (especially errors due to handwriting illegibility)
Consolidated patient histories and electronic drug decision support enable physicians to more accurately prescribe and administer medication
Enable the physician to electronically generate and transmit prescriptions and prescription-related information
Electronic clinical decision support and best practices in the physician's hands at the point of care facilitate correct diagnoses
Automatically generated patient reminders for preventive and follow-up care according to patient preferences.
Expanded health promotion, prevention and maintenance activities are possible
Enhanced communication with patients
Improved Productivity
Multiple user and location access to patient charts
Time savings in locating, filing and copying requested medical records
Reduced paperwork and duplicate writing
Prompt electronic billing and greater ease in invoicing and payment
Enhanced communication
Increased Revenue
Decreased lost revenue with accurate coding
Elimination of medical record storage and transcription costs
Huge reduction in chart materials purchased
Increased services rendered due to health maintenance reminders
Increased staff productivity
Increased physician productivity that can translate to additional patients seen per day
Better control of patient care costs by reducing redundancy of clinical services
Office space savings from eliminated chart storage that can translate into billable space
Tax incentives
If you qualify for the CMS EHR incentives, the financial incentives to implement this technology are such that it would be prudent to act now before they lapse. For a good source for additional and detailed information, visit our educational Content pages.
EHR adoption is not a simple process and it is a critical decision that requires the investment of time, resources, and money. There is no plug in and play solution. Any change in your practice operation of this magnitude will require a collective affirmation within your practice. For this reason, you and your staff need to be fully vested in the improvements that a successful EHR implementation can bring to your practice. While there are real challenges involved with an EHR adoption, such as initial reduced productivity, difficulty of learning new processes, the related costs, and uncertainty of qualification of CMS EHR incentives, they are all dependent on making informed choices.
The research to determine the appropriate product is paramount to you achieving all the benefits that an EHR can provide as well as qualifying for CMS EHR incentives. Assessing your current patient load, workflow, administrative system, overall computer skills, and office IT infrastructure are the essential first steps. Examining the future goals for your practice is also a piece that should be considered.
A successful implementation depends on your choice of an EHR that best fit your practice's specialty, current and future operations. The decisions that you make have far reaching ramifications for your practice. This type of investment can require a level of IT expertise that makes the hiring of an unbiased IT consulting company well-versed in EHR systems a good investment. They can assess your current environment, assist you to make informed choices, fully prepare your IT infrastructure for the EHR software implementation, and support that infrastructure.
Solutions, Tools, and Products

Review, compare, and select EHR Software Solutions.

Search for an Original Equipment Manufacturer (OEM) products when selecting and purchasing EHRs and related products.
Find and select IT Professionals that can provide guidance to EMR relevant products and services, create IT assessments, provide IT infrastructure, install computer technology as well as maintain and support all of your practice technology.
Resources
Last updated: May 20, 2013

Meaningful Use

HITECHAnswers and 4Medapproved partner to bring you the latest information and guidelines regarding HITECH and Meaningful Use!
Learn More.
HIPAA Consulting Services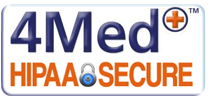 To learn more about 4Med+ HIPAA Consulting Services, click here.
Professional Training Courses

Fore more information about 4Medapproved training courses, including HIPAA training, click here.