CareerBoss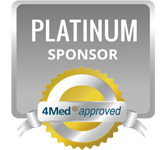 Only CareerBoss offers CareerBundles™, a complete grouping of courses, internships and industry certifications meant to provide the training and experience necessary to satisfy employers' job requirement demands for clinicians and other medical professionals. It is like attending a 2-4 year university entirely online and in a fraction of the time. CareerBundles provide skill development/certification is these areas: • Industry Certifications • Industry Skills • Business Skills • Personal Skills • Job Search Skills

4medtraining.com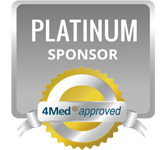 The 4Med Professional Training and Certification programs seek to fill an ever-widening gap in the nation's collective skill set. As federal incentives for electronic health records are phased out and penalties loom, the number of openings for qualified HIT professionals far exceeds supply. A recent survey by Wanted Analytics showed that EHR training was the most sought-after skill in the healthcare market. In addition, a survey by the College of Healthcare Information Management Executives (CHIME) found that two-thirds of member chief information officers (CIOs) who responded were experiencing HIT staffing shortages. To meet this increasing demand, EMRapproved developed comprehensive education for individuals, groups and vendors. The training and education program combines self-paced online lessons, multimedia content, certification exams and hands-on practical experience with access to a real-world certified EMR solution. Thousands of students have been trained through the 4Med program thus far. Part of that growth includes work with community colleges, medical schools, vocational programs and online training initiatives such as WIA (Workforce Investment Act). 4Med Certifications Include: • Certified EMR Office Professional (CEOP) • Certified Healthcare Technology Professional (CHTP) • Certified Healthcare Technology Sales Professional (CHTSP) • Certified EMR Management Professional (CEMP) • Certified Healthcare Technology Hiring Professional (CHTHP) • Certified HIPAA Security Professional (CHSP) • Certified HIPAA Workforce Professional (CHWP) Courses are also available as part of complete career bundles for various fields, including medical IT support, office management and inside sales. New courses are announced and released regularly to address the needs of the EMR and HIT Communities. 4Med Training courseware is approved for CEU and continuing education in association with EMRapproved and Corexcel. The program also offers government-approved veteran retraining through the Workforce Investment Act (WIA) through its partnership with the CareerBoss, LLC. Reseller programs are available for educational institutions and web partners to distribute the certification to students and members at discounted rates. For more information about the 4Med Programs, contact 4Med@emrapproved.com; or call (800) 671-1028 ext #13.

Become a HIPAA Compliance Officer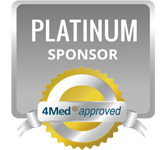 This accelerated certification workshop series covers the course curriculum for the Certified HIPAA Security Professional (CHSP) program which provides comprehensive training in HIPAA for business associates, security technicians, practice managers and medical staff at the compliance officer level. This web-based virtual classroom will provide students with detailed lessons outlining all aspects of HIPAA compliance, including the Privacy and Security rules, regulatory changes brought by the HITECH Act and Omnibus Final Rule of 2013, requirements for business associates, and more. There will also be opportunity for interactive Q&A with the instructor. The live workshop sessions will cover: * HIPAA Fundamentals * An Overview of HIPAA * The HIPAA Privacy Rule * The HIPAA Security Rule * The HITECH Act and Omnibus Final Rule * Business Associate Regulations * Security Responsibilities for IT Managers and Privacy Officers * HIPAA Audits and Enforcement * HIPAA Data Breaches and Penalties * Applied HIPAA Security for Healthcare Professionals * HIPAA Policies, Procedures, Awareness, and Training * Compliance with Multiple Regulations Continuing Education Units (CEUs) included! Participants who complete of the workshop and accompanying assessments with a qualifying score on the final exam, achieve the Certified HIPAA Security Professional (CHSP) designation, seal and certification. Course Instructor: Brian Johnson, CHSP, has worked with course contributors to create, edit, and manage all HIPAA educational programs in the 4Medapproved training catalog and is engaged in partner management for all 4Medcompliance service products and programs. Brian also hosts the 4Medapproved Learning Lunch Webinar Series and is a skilled live instructional presenter.
Digitalhealthweekly
a free site where authorities, founders and experts teach about Digital Health (health and technology) apps and services. http://www.digitalhealthweekly.com/beta

Best Practice Partners
Our mission is to help our clients improve the quality of healthcare through more effective use of technology. Best Practice Partners is the partner of choice for the world's leading pharmaceutical, provider, payer, and healthcare organizations, helping them better harness the power of their data through project management, innovative training, professional consulting, communication and adoption methodologies. www.bestpracticepartners.net.

NetLearning
NetLearning, a part of HealthcareSource, provides training & assessment solutions for healthcare professionals working in all areas of healthcare. Award-winning Learning Management System that is user friendly. NetLearning is there for you during an audit with unique reports functionality. Competency Management product, NetCompetency, connects educational & competency assessment activities & data. Award winning HIPAA & compliance courseware, outstanding customer service, ICD-10 training, & more! www.netlearning.cengage.com.

BridgeFront
BridgeFront delivers online healthcare education that's high quality, easy to use, and very low-priced. Clients truly partner with us in the development of our courses and services. Recently, our customers requested tools to edit and build courses, and additional reporting features--we delivered. Consider BridgeFront as your 'new' learning partner today--quality online education at an affordable price. Learn more at www.bridgefront.com.

Virtual Hands-On Training
Knowledge Anywhere delivers award-winning, end-to-end eLearning solutions, EPIC certified EMR staff and HIT Solutions that help organizations optimize the performance of their workforce – as quickly and efficiently as possible.

Medical Records Professionals
Medical Records Professionals is a training and development website for Medical Records professionals. The site also offers training and CEUs for nurses. Medical Records Professionals provides unique up-to-date Medical Records training opportunities through audio conferences, seminars, webinars and articles. Audio Conferences offered on Medical Records Professionals are specifically designed to meet the needs of medical professionals. Audio Conferences are a cost-effective way to train. Simply dial into the audio conference in the convenience of your own office or grab a conference room with co-workers and train as a group. Seminars offered on Medical Records Professionals are live one-day training events held in locations across the US and Canada. Seminars are a full day of training for medical professionals looking to get information on employment and labor laws and updates to related compliance issues in their area. Webinars offered on Medical Records Professionals provide training to medical professionals at any time of the day. Webinars can be accessed 24/7 with only the requirement of internet access, making it one of the easiest, most convenient methods to receive training. Articles on Medical Records Professionals provide great insight and news on timely relevant topics. Articles found on Medical Records Professionals will give medical professionals the information they need to stay up to date in the healthcare industry.

MentorHealth
MentorHealth is a comprehensive training source for healthcare professionals. The company offers on-demand webinars and other educational content on nursing, clinical informatics, and more. www.mentorhealth.com.

A.D.A.M.
A.D.A.M. – the company that pioneered online health content and multimedia visual learning assets – has created SmartHealth™, the complete enterprise healthcare information platform supporting the entire continuum of care. Whether you're looking for innovative ways to convert consumers to patients or comply with important patient education requirements, our SmartEngage™ and SmartCare™ solutions can help you deliver consistent information at every point of care. www.adam.com.

Antidote
Antidote exists to improve the care provided to patients by providing high-quality, relevant, and practical continuing medical education. Educational activities are based on identified barriers and practice gaps, and serve to enhance competence and performance in patient care, medical knowledge, practice-based learning and improvement, interpersonal and communication skills, professionalism and systems-based practice. www.antidotecme.com.